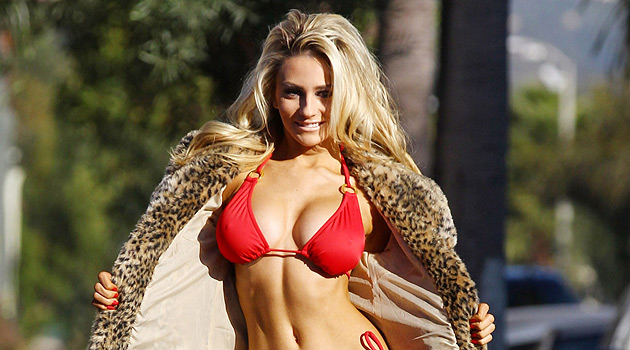 Thought Farrah Abraham's porno payday was impressive? Think again.. Adult site Panoporn offered teenage bride and TV personality Courtney Stodden a porn deal that could have earned the 18-year old a whopping $5 million! But surprisingly enough, Stodden passed on the lucrative deal, saying "It is not the direction I am interested in taking in my life."
Panoporn offered Stodden up to $200,000 up-front for two solo scenes, a sum they predicted could grow to anywhere from $3.5 to $5 million dollars on the backend as it gained hype.
The porn company planned on splicing together the two scenes for their signature 360-degree panoramic porn experience that allows viewers to pan around a virtual room and change the camera focus. I've only seen the demonstration on their homepage, but it looks pretty awesome, especially for orgy scenes where there's a lot of action going on at once.
"Out of respect for her husband" 53-year-old Doug Hutchison, they refrained from requesting boy/girl scenes, her mother and manger Krista Keller said.
While Stodden has nixed notions of a porn career, she is pursuing another NSFW avenue with the upcoming release of her and Hutchison's "sex ed" video. The footage, to be posted on PassionAndPleasure.com, is meant to instruct couples on how to reclaim sexual vitality in their relationships.
What do you think about Courtney Stodden turning down a potential $5 million pay day?!