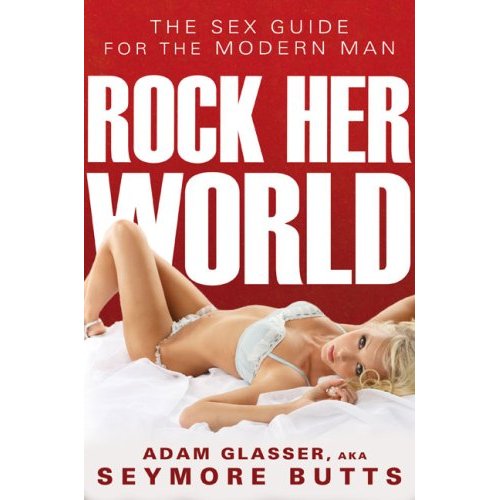 Family Business was a late night reality series on Showtime about an average guy named Adam Glasser trying to make a living in the Adult Film industry. A hilarious blend of real-life absurd situations and eccentric characters, the show focused on the charismatic Glasser and his alter ego, "Seymore Butts," who has created over 70 popular adult films.
Showtime eventually cancelled the show, and fans were left wondering whatever happened to Adam and the rest of his family.
Turns out Adam has been busy working on a new book, and we had a chance to check it out! In Rock Her World, Glasser covers taboo subjects not typically addressed in most other sex manuals, and he peppers the text with anecdotes about his own experiences acting in and directing adult films. The book is as entertaining as it is informative.
Here's the official description from Amazon:
From pick-up secrets to mind-blowing sex, the king of the climax nails the finer points of giving and receiving perfect pleasure.
One of the most recognizable names in porn, Adam Glasser has slept with more than six hundred women, on and off camera. In his first book, this professional Casanova reveals the naked truth about getting laid, addressing the nitty-gritty questions that amateur sexperts never even thought to ask.
Rock Her World features three sections (About You, About Her, About Sex) that cover everything a man needs to know, including how to keep the male equipment in top shape, "sexercises" for improved performance, the truth about erectile dysfunction, and other fundamental topics. Next, Glasser tours every crevice of the female anatomy, with eye-opening explanations of a woman's orgasm- including female ejaculation-and surprising findings about what women really want in bed. From foreplay and oral sex to intercourse, all aspects of sex are demystified. The details of contraception, sex toys, anal sex, spanking, & the art of seduction are hammered home alongside hilarious anecdotes from Glasser's career (including one peculiar costar's climax-control technique). Fleshed out with illustrations (both instructional and comic), Rock Her World gives every man a chance to learn the art of world-class lovemaking from a legendary insider.
I was pleasantly surprised and thought it was a solid read. Glasser completed the book without the help of a ghostwriter, and the matter-of-fact, often-cheesy writing does suggest the book is all Adam.
Rock Her World is available for purchase from Amazon.com.
We've got two extra copies to give away. If you're interested, just leave a comment on our Facebook page and tell us why you should win – The best two take 'em!