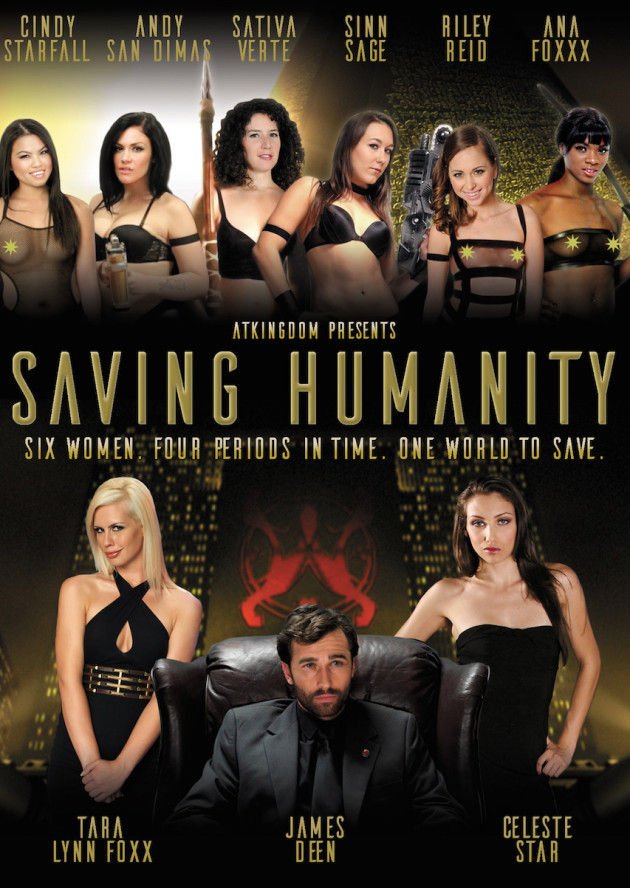 A few months ago, we posted the trailer for Saving Humanity, which marked ATKingdom's first feature since Revenge of the Petites was released way back in 2012. Saving Humanity has been two years in the making, and the sci-fi epic promised to take adult filmmaking to another level.
So how did it fare? To find out, we popped in a copy of Saving Humanity, turned down the lights, and set in for an out-of-this-world experience like no other.
If you're not familiar with the movie, here's the synopsis:
The lives of four women (Sativa Verte, Riley Reid, Andy San Dimas and Sinn Sage) from different time periods (ranging from pre-historic man to 2054) are connected by exposure to a mysterious monolith which transmits exceptional powers to them. These women must contend with President John Weinstein (James Deen), an evil scientist from 2054 who plans not only to develop time travel but to clone humans and curtail freedom as well. When Sara (Sinn Sage) uncovers Weinstein's evil plot, she travels through time to recruit and assemble a team of heroines to take on him and his evil cohort Raven (Celeste Star). The movie races to an explosive climax as the heroines risk their lives in a battle to save the world and humanity as we know it.
What really drew me to Saving Humanity was the storyline, which combined two of my loves: sci-fi and porn. And while I knew not to expect something as grand as Gravity or Star Wars, I was hoping for a step up from the softcore porn you see on late-night Cinemax.
And to their credit, the movie offered a solid storyline (one that interested me enough to watch to completion, rather than just skipping to the sex scenes), along with some decent special effects (for a porno). But where the movie fell flat for me was when it came to the sex, or lack thereof.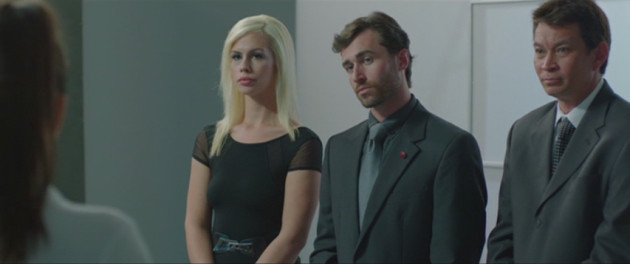 There's an amazing cast of hotties here, including Riley Reid, Tara Lynn Foxx, Andy San Dimas, Sinn Sage, Celeste Star and Cindy Starfall, to name a few. But most of their talents are wasted on lesbian sex, with only Reid and Foxx getting any deep dicking. But there's a nice all-girl orgy at the end, if that's any consolation.
Overall, it was refreshing to watch an adult movie with an actual plot, and one with some actual depth. Who knew that in the year 2054, humans would exist in an Orwellian state, where sex between humans has been outlawed, and every aspect of their lives is monitored by The Corporation?! Some thought definitely went into the script here, and I for one really appreciated that.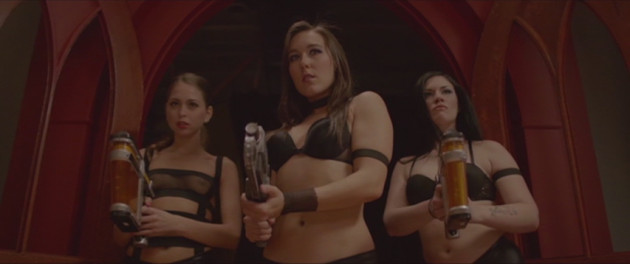 Saving Humanity Pros:
* The plot actually exceeded my expectations.
* The special effects were great (for a porno).
* The two MF sex scenes we got were really hot!
Saving Humanity Cons:
* The acting was pretty average at best.
* Apparently everyone is a lesbian these days.
* Most of those bushes could have used a trim.
* Non-existent extras on the DVD.
Is it worth picking up? That really depends on what you're into.. If you like watching hairy women getting it on with each other, then you're going to love this movie. But if you are looking for loads of hot MF or MFF action with little-to-no hair down there, you're going to be disappointed.
Rating: 3.5 out of 5
>> Purchase your copy of Saving Humanity today!