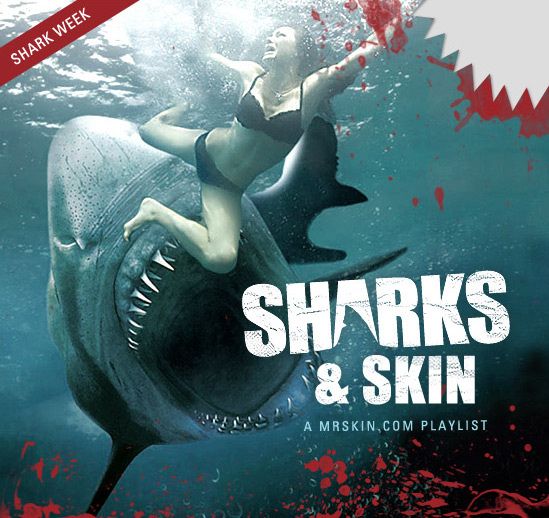 This year's Shark Week not really doing it for you? Yeah, me either. But don't despair, because Mr. Skin has come to the rescue with 23 of the hottest shark scenes you've ever seen. They've got some sexy ladies worth getting your jaws around, so take them into the deep and sink your teeth in.
Amber English & Anna Jackson in 2-Headed Shark Attack play topless in the surf, which draws a two-headed shark to bite their two pairs of boobies. One lucky guy doesn't notice as the girls get it on, but can you blame him? The naked drunken night swim that ended in a brutal shark attack, Susan Backlinie in Jaws made folks both attracted and scared of the water. A shark gawks at the T&A of Eleonora Vallone in Carnada. You can too. White bikini bottoms on Priscilla Barnes in Tintorera is hot and then tits from Jennifer Ashley is even hotter. Watch these white waters boil. Then we'll have shark fin soup, which will turn you on.
White bikini Holly Madison in CSI and shark attacks make for an endless summer. Bikini, shark and electric current near water makes Saffron Burrows in Deep Blue Sea electrifying. Sara Paxton, Katharine McPhee and Alyssa Diaz in Shark Night 3D will have you rubbing your eyes in disbelief. It's a party as Reem Kherici in Colombiana taunts a tankful of sharks in her boobtastic bikini. Scuba diving without a bra, Carrie Olson in Cherry Hill High is an underwater cream dream come true.
They say sharks are meat eaters.. Well these girls are some grade-A meat, so eat up!