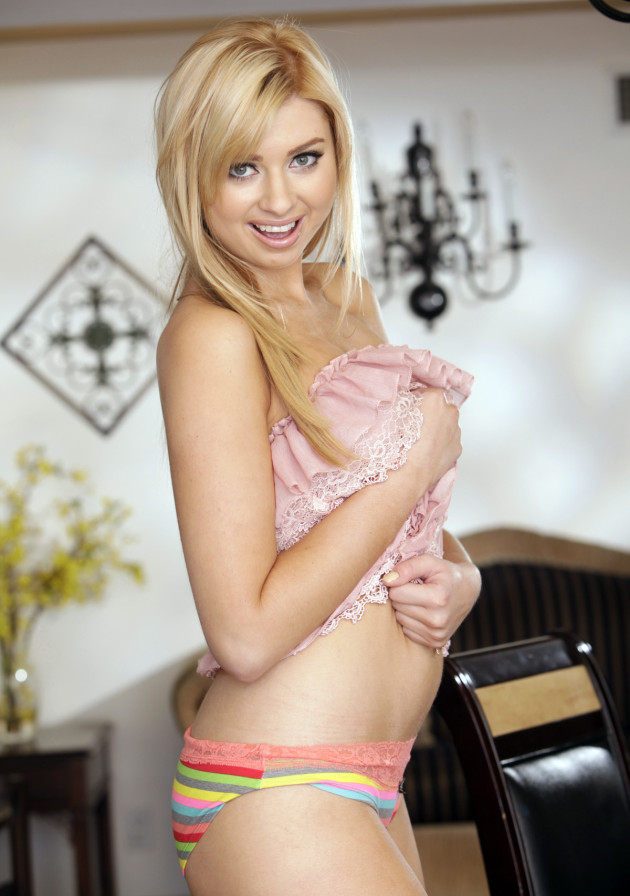 Molly Bennett is a cute little teen princess who could melt your heart with her sweetness, and send all that sweetness right down to your balls to produce some serious love goo. She's an absolute doll, but a doll who can handle a heavy amount of rough play. She's a petite blonde with perky medium tits that always rise and shine first thing in the morning to greet the day and get ready for some play.
Even though this girl radiates a vibe so cute that she could make kittens blush, she's one hell of a sex cat. It doesn't matter if she's paired up with a young stud, a pervy daddy figure, another teen girl, or a demanding MILF, Molly always helps her partners reach maximum sexual satisfaction. With that cute little mouth of hers, you'd be totally surprised by how many inches of fuck-stick she can ram down there. That moist muff nestled between her thighs must taste like strawberry cream, as guys and gals could sit down for a buffet between her legs and visit devour town for hours.
Molly's got a bald little pussy, but with lips that swell up nice and big when her cooter gets excited for a bang session. Molly has the fuck stamina of 10 girls, and she can take it standing up, lying down, legs thrown over her head, or whatever way you can think of. Give this girl a warm slathering of jizz on her pretty face, or up her creamy pie, and we've got one happy girl scout.
If you haven't watched a Molly Bennett video yet, let me tell you, you're in for a real treat. Rumor has it that she's retired from porn, but there are PLENTY of scenes to keep you occupied for awhile. So check her out, and you'll understand why we named her our Porn Star Of The Week!
You can check out a work-safe gallery of Molly Bennett below:

Wwant to see more of her hardcore scenes? Then head over to Adult DVD Empire to see all of her movies!