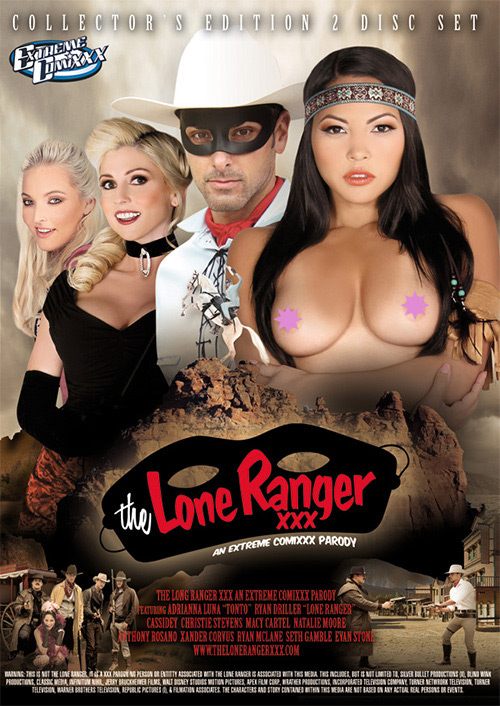 Over the Christmas break, I finally got a chance to watch The Lone Ranger XXX: An Extreme Comixxx Parody. This might seem like an odd title for me to review, given that I never was a fan of Western movies. But I'm a big Adrianna Luna fan, so when I saw that she was starring in the movie, I grabbed it.
I knew I had made the right decision when AVN nominated Luna for Best Actress for her role in The Lone Ranger XXX. I couldn't wait to watch my favorite Filipino take on the re-imagined role of Tonto!
Here's the synopsis for The Lone Ranger XXX: An Extreme Comixxx Parody:
The Wild West was one of the most exciting times in American history. From it stemmed great tales of legendary heroes and dastardly villains. One such great tale was The Lone Ranger and his run ins with Butch Cavendish. In our story, Butch and his gang ambush The Texas Rangers in attempt to take over the territory. Butch's plan almost worked, except they failed to kill one ranger who was left for dead. But they didn't count on Tonto, a friend from the rangers past. Tonto nursed the ranger back to health and helped him put an end to the iron grip that held the townspeople hostage.
And here's the work-safe trailer for the movie:

If you came here looking for a movie with a strong storyline, you might be disappointed.. But let's face it, none of us are buying these movies for their plots, am I right? We're here for the sex, and in that respect, this movie delivers in spades.
What's great about this flick is that we get to see these five beauties (Adrianna Luna, Natalie Moore, Christie Stevens, Cassidey, and Macy Cartel) getting railed while wearing period correct outfits. I don't know about you, but there's just something kind of hot about that to me.
There are five scenes on the disc, and all of them deliver in spades. Natalie Moore gets down in a nasty MMF scene, keeping on her bar girl outfit throughout. Christie Stevens has curves in all the right places, and she looked AMAZING in that outfit. So much so that I was able to put aside my dislike of Evan Stone and still enjoy this scene. And of course, Tonto (Adrianna Luna) got down with the Lone Ranger in a teepee, and it was everything I had hoped for. I wish she had kept on more of her sexy Indian outfit throughout the scene, but that's a minor complaint about an otherwise exceptional scene.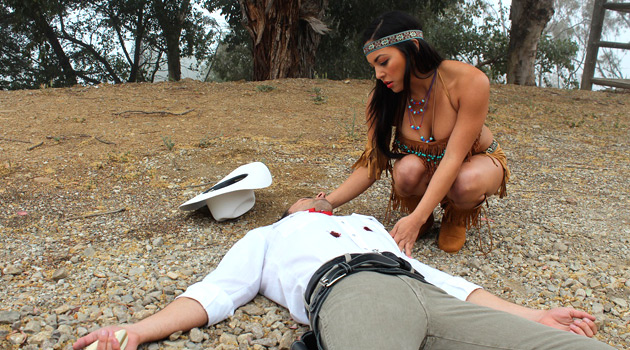 There's also a ton of additional content on the second disc, including 3 full-length bonus scenes, a massive photo gallery, cum shot loop, behind the scenes footage, and more. I tend to skip over these sometimes, but there's some really good stuff here, so make sure you check it out!
All in all, I thought this was a pretty solid movie. Whether you're a Western fan or not, there's a lot to like about this movie, so be sure to pick this one up.
>> Purchase The Lone Ranger XXX: An Extreme Comixxx Parody from adultdvdempire.com.