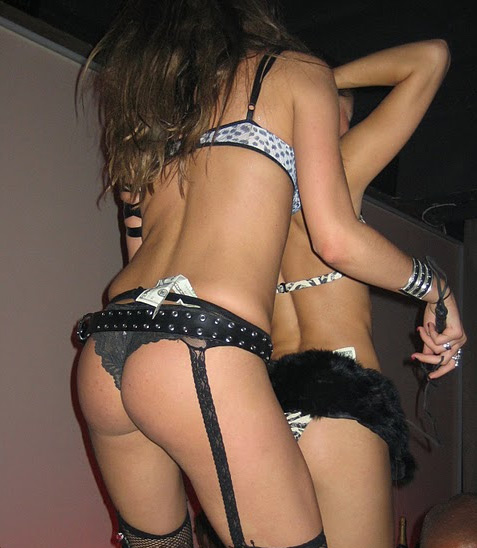 I can only speak for myself, but as a red-blooded, heterosexual Amercan male, a rite of passage that I went through when I was younger allowed me to appreciate women from a visual point of view.
And the women in question ranged in age from 18 all the way up to the 40's. Sizes and shapes ranged from the drop-dead gorgeous type all the way to the Bronx Zoo variety. Basically a little bit of something for everyone.
And where would you find these specimens at, you're wondering? At what I consider an American institution: A strip club, of course.
Of course, there isn't just a standard type of strip club. They come under other names, including:
Gentlemen's Club
This type of establishment tends to be a bit more classy than your standard strip club, from the club itself all the way to the "entertainment." If you're looking for a Tori Spelling clone, this isn't the place to go.

Gown Club
Similar to a Gentlemen's Club, but with some differences. As the name implies, the ladies wear gowns (presumably evening gowns) onstage.

Nudie Bar
These places are the polar opposite of a Gentlemen's Club. They're usually located in the seedier parts of town, and the talent onstage tends to reflect the locale of the establishment in question. The type of place to go if you want to be entertained on the cheap. And all of them usually serve alcohol, which is a good thing seeing that booze makes even the ugliest strippers look like Megan Fox after a few shots of your favorite beverage.

Pastie Club
They're the endangered species of the strip-club genre. Typically, the dancers have to wear a pastie, which covers their nipples while wearing a thong or other underwear, covering the nether region. Alcohol may or may not be served at these venues, depending on the laws in your area.

Topless Bar
This place is pretty self-explanatory, as the name implies. The talent is usually topless, but are required to cover up the goods down below. Again, like most establishments, local laws may allow or disallow the sale of alcohol at these clubs.
As those of you who have frequented these places already know, most clubs have a cover charge which, depending on the establishment in question can range from no cover charge to upwards of $30 or so. Let your pocketbook and taste in strippers be your guide.
It is to your (and your stomach's) distinct advantage to eat in advance to hitting the clubs. Believe me when I tell you: The experience is ruined if you drink at a club while on an empty stomach. You'll feel like crap while there, and the club probably will not appreciate you having the "dry heaves" during your visit.
Some suggested grub to fill up on prior to your sojourn: White Castles or anything that has animal protein in it. In other words, hamburgers, most Mexican food or just about any fast-food joint should do the trick. But do yourself a favor – lay off the garlic, if possible. The dancers will notice it and probably avoid you, if at all possible, unless your wallet is fat.

The quality establishments tend to have special rooms and such, in order to enhance the stripper experience. Again, your pocketbook will probably dictate if you want more than just a seat and watch the strippers from a distance. Some of the "enhancements" at your better establishments include, but are not limited to:
Champagne Room
If you happen to have deep pockets while at a Gentlemen's Club, this "room" is a must-visit. The room is either semi-private or private, depending on the venue and can be pricy (depending on your definition is). Prices vary, but if you're into these rooms, expect to spend at least $100 while utilizing the Champagne Room. And yes, your money gives you some private time with usually one of the better-looking dancers.

VIP Room
A funny name for an enhancement at a srtip club. Basically, it isn't much different than the Champagne Room. And it can be an expensive proposition, as well. So again, have deep pockets if you wantr to take your entertainment experience to the next level.

Bed Dance
Very few clubs offer these; but basically, a dancer dances on top of you while on a bed, hence the name.

Couch Dance
While not as inclusive as the Champagne Room, you can still get a "special dance" from one of the talent. The difference here being is that the dancer does her thing usually on a table in front of the couch away from the main stage and seating. It is the "middle ground" between sitting by the main stage and the Champagne Room. Have some paper currency because you'll pay for the privilege. The good thing is that the dancers charge much less for a couch dance than a session in the Champagne Room.

Full Contact Dance:
About the closest thing to "doing the wild thing" that most clubs allow. Usually, a Full Contact Dance allows you, the customer, to feel a dancer's breasts and butt. However, reaching for further south (I think you know where I'm talking about) is not an option. And not unlike a Champagne Room encounter, the price tends to be rather steep.

Extras
This term can be vague in its meaning. But typically, extras sometimes include but are not limited to sexual acts. Again, it depends on the establishment in question. But whatever you do, consult the club owner or house mom if you're unsure what "extras", if any, are offered. It isn't worth getting outed and possibly thrown out of a club, not to mention the possibility of a police officer taking you to jail.

Feature Dancer
You will find these "name-brand strippers" at the higher-end establishments, usually. A feature dancer is usually a lady who has a following either locally or nationally. She is usually one who is one or more of the following: Porn actress, Adult magazine model. Another thing to consider. A Feature Dancer, as the name implies, is typically contracted by the establishment in which she is scheduled to perform. As a result, there may be a steep cover charge.

Shower Dance
They're rare, but some clubs offer these. As the name suggests, a stripper takes a shower onstage.
While a stripper is the reason why you to a strip club in the first place, what good is it if you don't have the appropriate music. Which leads us to …
Club Jamz
While at the clubs, you will probably notice that the talent onstage tend to dance and strip to music of their own choosing. Sometimes that works, sometimes not so much. With that in mind, do not hesitate to have a dancer play a song that you like. It's your money, so it's a right.
Having said that, here are my suggestions in terms of music that you and the stripper will mutually agree upon. Please note that the tunes that I am about to suggest reflect my tastes, yet work well as they have a "stripper flavor" to it. If the music is very good, the dancers tend to perform better and that usually results in you tipping the talent.
The music that I suggest is:

I'm In Love Wth A Stripper (T-Pain)

Pour Some Sugar On Me (Def Leppard)

Cherry Pie (Warrant)

Girls, Girls, Girls (Motley Crue)

Salt Shaker (Ying Yang Twins)

Pop that P**** (2 Live Crew)

S&M (Rihanna)
Well fellas, I think that just covers everything that will allow you and your entourage to join your experience while out on the town. I hope this allows you to go to the clubs, enjoy yourself, and who knows? You may have the strip club gods smile down on you and allow you to take a stripper home with you.
And just remember: While at the club, get more "bang" for your buck!!