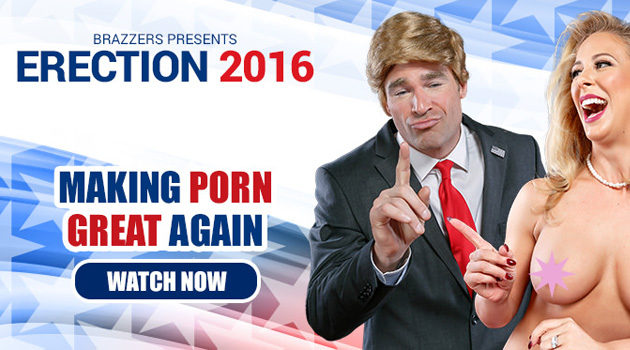 Just when I thought I'd seen it all, along comes BRAZZERS with a political porn parody pitting Hillary Clinton against Donald Trump.. in the bedroom!
You read that right. ZZ Erection-Part 1 takes place on the stage of a heated presidential debate between the Republican and Democratic presidential front-runners. The scene stars Cherie Deville as Hillary Clayton and Charles Dera as Donald Drumpf. Debating key issues such as the controversial wall between America and Mexico, relationships with China, and what it means to have small hands, Mr. Drumpf is out to prove that the size of his hands are not proportional to the size of his member. How he goes about doing so is for the audience to discover, and for Ms. Clayton to confirm.
BRAZZERS Product Director, Mario Nardstein describes the motivation behind the mock presidential debate:
"The political circus here has become more than just a bit of a spectacle, attracting and repelling audiences around the world. So, we decided to take these quirky characters and their political showmanship and translate it into a porno. Let's be adults about this, if you're going to screw each other during political debates with strikes below the belt, you might as well undo the belt afterward and just get to the action."
Honestly, I'm not sure who really wants to see this clusterfuck, but if politics gets you horny, ZZ Erection-Part 1 might be just the ticket for you. This scene will be available on BRAZZERS on June 10th for Republicans, Democrats, and anyone interested in watching a heated debate between a fictional Donald Trump and Hillary Clinton.