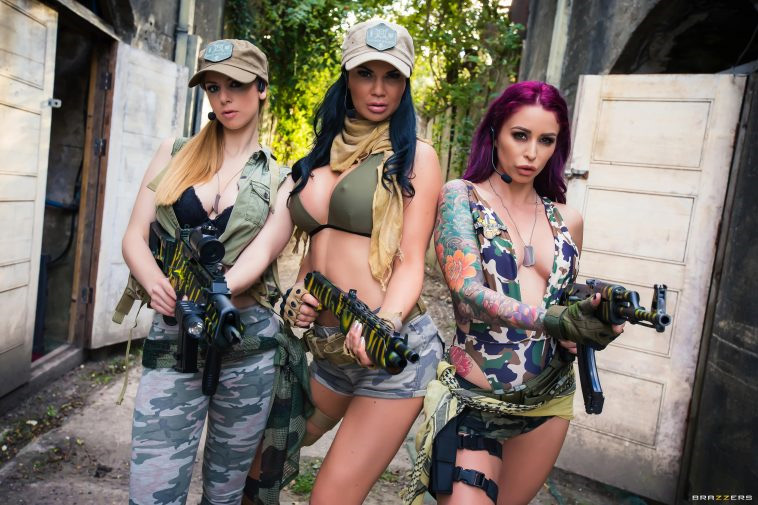 BRAZZERS has just released Cock of Duty XXX Parody, a porn parody inspired by the first-person shooter gaming style.
Here's the storyline for Cock of Duty XXX Parody: When danger strikes, the ZZ Military counter-strikes as a unit of ZZ soldiers are deployed deep in enemy territory on a mission to extract fellow soldier, Danny D, who is in possession of a very special package. The unit, led by Commander Monique Alexander, accompanied by Explosions Specialist, Jasmine Jae, and Support Operations, Stella Cox, must escort Danny and 'the package' to the extraction point. But as the unit approaches the extraction point, they're faced with the reality of their situation: they're taking modern warfare…to space?
And we've got the official trailer for your viewing pleasure:

BRAZZERS Public Relations Manager, Matt Stevens comments:
"With Cock of Duty XXX Parody, we aimed to replicate that feeling you get when you're stuck in an enemy's spawn point with your (not-so-covert) flashy customized weapon class, as your friends come to escort you back to base to complete the match objective.

The games many of us experienced in the prime of our youth were revolutionary first-person shooter games. With the remastering of some of our favorite games this season, we were motivated to relive those amazing moments we had, prompting us to adopt a different perspective when filming this scene. Hence the first-person point of view throughout the scene.

We threw in customized weapons, tanks, explosions, stunts, tons of enemies and unique military locations – even spaceships because you know, apparently modern warfare is destined to become space warfare."
Cock of Duty XXX Parody will be released on November 3rd. This is one FPS battle that promises you won't be going into space, but will help you lift off!