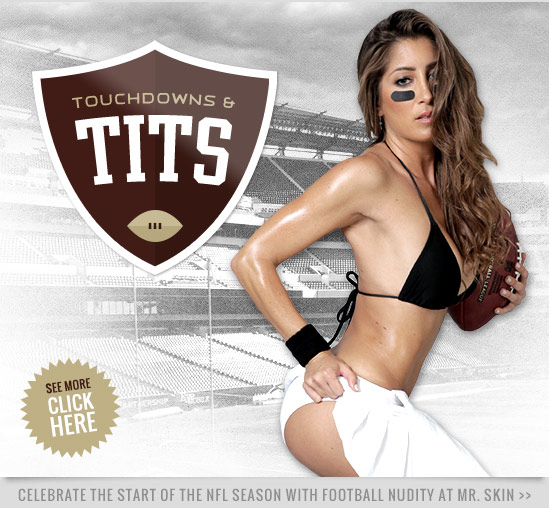 It's America's favorite past time. No, not football, you goon, naked ladies. And we have the stats to prove it. Kendra Wilkinson in The Girls Next Door posing for a photoshoot as a San Diego Charger, but her uniform doesn't fit, sexily. Angela Aames in H.O.T.S. is on the skins team. There's another team? We hadn't noticed. Full frontal lesbian football with Tammy Parks in Play Time. Who's got the ball? Who cares, we're having one. Touch football will always lead to sex as Christina Ricci in Black Snake Moan shows and shows. Naked football instruction with Bojana Novakovic in Satisfaction is interrupted by the other woman. Oy!
But wait, there's more! New boobies and thong from Sara Jean Underwood in Kendra. Elizabeth Berkley in Any Given Sunday is any given hot. A football-bar from Brooke Nevin in The Comebacks will have you come on someone's back. Olivia Alexander and Jena Sims in Attack of the 50ft Cheerleader take their topless cat fight to the grid iron. Drunk and about to do the whole football team, Jessica Biel in The Rules of Attraction is taking it for the team. Kelly Preston in Jerry Maguire goes the whole nine yard. Amber Heard in Friday Night Lights will make your penis hard as she goes at it with her boyfriend on the coach. That's team spirit. Mariel Hemingway in Creator shows off her tits as she reaches for a high throw.
Needless to say, you'll be playing touch football in your pants. Now let's all touch down!
Click here to see all the football nudity at Mr. Skin!