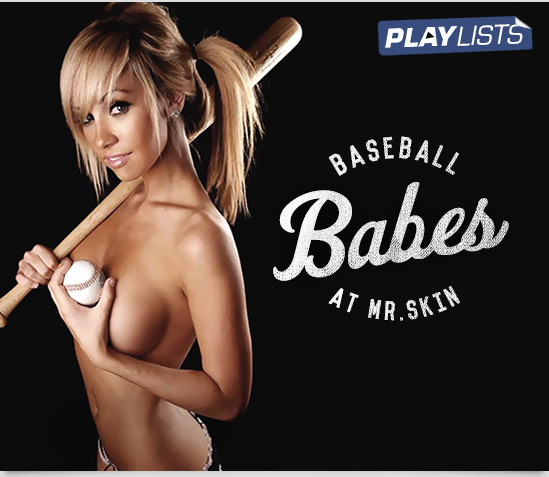 Opening Day is finally here, so like they say, "Batter up!" These girls of the diamond are gems both rough and flawed. Whether you take them to first, second or third base, score a home run or grand slam, no one's hitting the showers without getting their hands on the mound. The girls of Coyote Ugly are everything but, including Izabella Miko, who will make you balk as she strips on the plate. What a meal! Bottoms up! Seriously, who wouldn't want to steal those tits!
Eastbound & Down offers the double-play of Katy Mixon's double players, and Ana de la Reguera and Vida Guerra playing more than ball. Plus Sylvia Jefferies will steal your heart-on with her hard-on nipples. Jessica Biel in Summer Catch is a real catch in her wet bikini, which barely holds in her boys of summer. Heather Graham will make you see Red Socks in Anger Management, when she strips down to a baseball-themed bra-and-panty combo with the name of that infamous Boston team embroidered on it.
Kelly Preston is worth pressing your kelly on in For Love of the Game, where she takes not only an elevator up. Kelly McGillis proves that Babe Ruth was big all over and loved all the babes in The Babe. And Angela Bassett is batting 1000 with her darkly seductive charms in Mr. 3000.
And there's more than you can swing a flesh bat to, but we recommend you try and connect with every pitch because there's one to knock you out of your ballpark.
Click here to see all of these baseball babes at Mr. Skin!