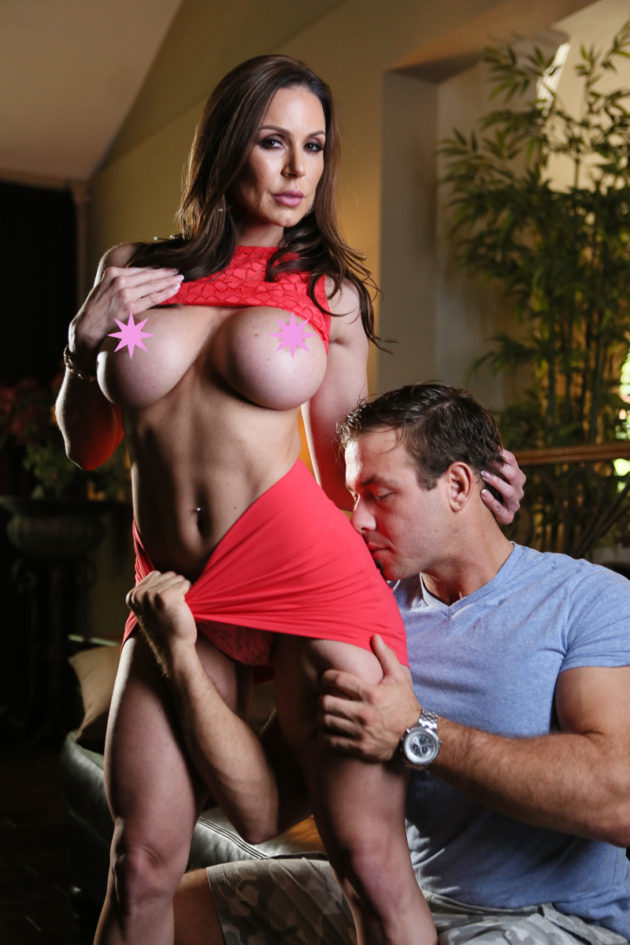 Digital Sin just announced the release of I Love My Mom's Big Tits 3, the newest volume in its chart-topping and provocative family-taboo series that combines two of my favorite genres, MILFs and big breasts.
I Love My Mom's Big Tits 3 features performances by MILF all-stars Jewels Jade, Alyssa Lynn, Bridgette B., and cover-girl Kendra Lust, and is directed by Paul Woodcrest.
These horny stepmom's have giant tits that just won't quit! Watch Kendra Lust, Alyssa Lynn, Bridgette B., and Jewels Jade use their fantastic fun bags to seduce their unsuspecting stepsons into fucking them balls deep! We hope you're ready, because these busty moms can't wait to get it on.
Jewels Jade has grown tired of watching her stepson mooch off the family, but when he threatens to reveal their secret affair to his father she has no choice but to provide for him in every which way.
Alyssa Lynn catches her stepson's eye while cleaning house in a formfitting dress, lamenting her lack of a social life in the hopes he'll show her a good time.
Bridgette B. feels hurt and betrayed to know her stepson still talks to girls in his school and demands he prove what they have is worth the risk.
Kendra Lust confronts her stepson over photographs he's taken of her in various stages of undress, urging him to come clean the only way she knows how.
"This is a fun series to shoot. There is always so much to work with and everyone gets caught up in creating the hottest fantasy possible," Paul Woodcrest said. "Our cast for Volume 3 is unbelievable. If you love MILFs, enormous breasts, beautiful women in general – you're going to be busy for a few days. My advice… stock up on warming gel and get your excuses ready for when people ask where you been."
MILFtastic stepmoms and stepsons in compromising situations, fueled by lust and reckless abandon? That sounds like my type of movie! If you still need convincing, just watch the NSFW trailer and see for yourself.