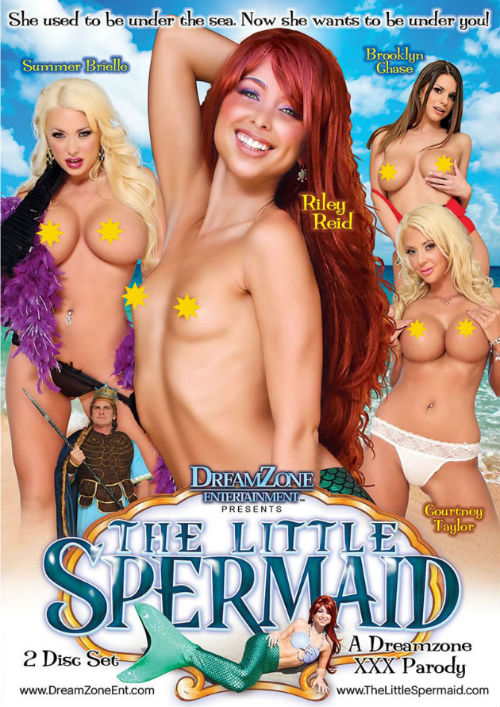 DreamZone Entertainment has announced a May release for its latest feature parody, The Little Spermaid. Directed by Jordan Septo, the prolific industry veteran who brought you Godfather XXX and Rambone XXX, The Little Spermaid is sure to make a splash. The Little Spermaid stars Riley Reid as Areola, Summer Brielle as Curse-Ola, Brooklyn Chase, and Courtney Taylor. Supporting male cast includes Ryan Driller as Eric Prince, Tommy Pistol, Derrick Pierce, and Evan Stone as King Two Ton.
Standing at a crossroads in his life, Eric Prince is beginning to have second thoughts about his upcoming marriage. While reflecting on his predicament at the beach, he nearly drowns, but is saved by Areola, a beautiful mermaid. While Eric's friends refuse to believe his tall tale, his desire only grows. Soon enough, Curse-Ola and King Two Ton come looking looking for Areola, and no one can doubt the truth to Eric's story, or his love for The Little Spermaid.
The Little Spermaid is a 2-disc deluxe collector's edition that will include Bonus Scenes, Trailers, Photo Galleries, as well as SFW versions of some of DreamZone's other classic parody adaptations.
"Fans on social media have already created an air of anticipation for The Little Spermaid, so we're especially pleased and excited to announced the May release date. An all-star cast, whimsical look, and the feature's sexy twist is sure to quench the thirst of anyone looking forward to the film," said Adam H., VP of DreamZone Entertainment.
The Little Spermaid hits shelves in May 2014, and you can pre-order the movie now!