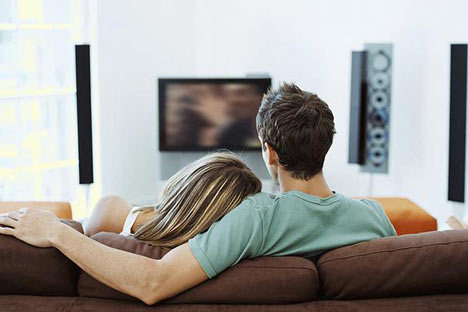 It's the age-old question – How do I get my girlfriend to watch porn with me?
Listen, if 50 Shades Of Grey has shown us anything, it's that women are just as horny as us! We asked a number of women if they would watch a porno with their boyfriend/husband, and nearly all of them said YES!
But here's where it gets tricky. They don't want to watch a "dirty" movie (ie. No gangbangs, messy facials, massive implants, etc). The key is finding the right movie to watch together.
That's where New Sensation's Romance Series comes in. Their Romance Series is focused on stories of sensuality and passion, romance and commitment, connection and devotion. Quite simply, Love Stories. This is erotica for her, yet equally enticing for you.
A number of the The Romance Series movies are written by Jacky St. James, a woman who understands what other women are looking for. As she explains it:
The main goal of The Romance Series is to create an entertaining, high quality product that couples can enjoy together. We want women who might be a little skeptical about watching porn, or those with preconceived notions about it, to see that what we offer is something very tasteful, yet still sexual.
It sounds good in theory, but I decided to perform my own real-world test by watching a few movies with my girl and gauging her response. We watched the following movies:
Love, Marriage & Other Bad Ideas

(Shared Wives is part of New Sensation's Swingers Series, a spin-off of The Romance Series)
And let me tell you, the results were even better than I could have hoped for!
20 minutes into The Friend Zone, and my girl was becoming visibly excited. Her panties were soaked, and it wasn't long before she straddled me and gave me the ride of my life!
Needless to say, New Sensation will be getting a lot of repeat business from us. 🙂