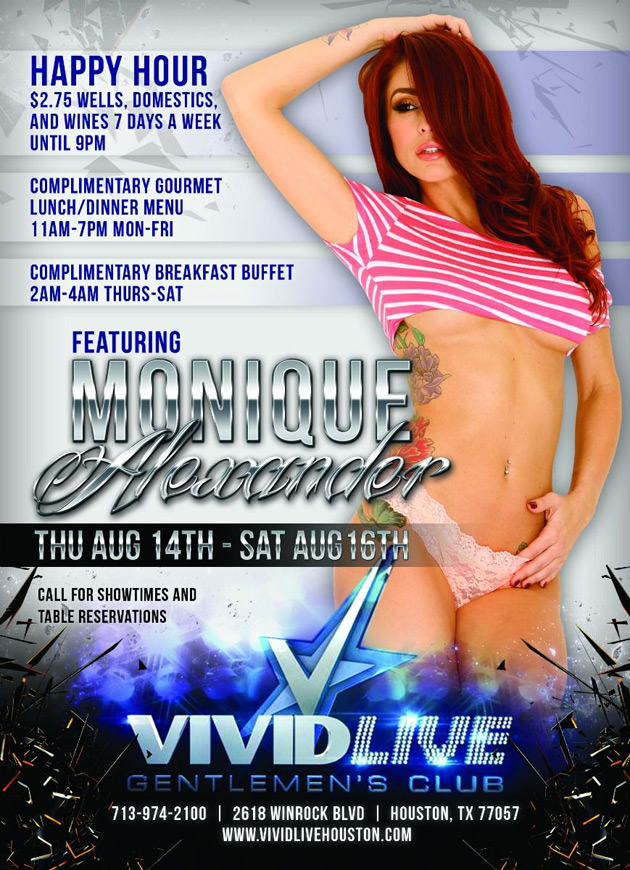 Monique Alexander, one of Vivid Entertainment's most popular stars, will be performing at Vivid Live Men's Club in Houston from Thursday, August 14th through Saturday, August 16th.
Vivid fans will recognize Monique from such titles as Cry Wolf and Debbie Does Dallas Again. She also made cameo appearances as a porn star on TV show Entourage and in the movie Crank: High Voltage. Petite and slender with long dark auburn hair and big brown eyes, the bubbly Monique will perform nightly at the newly renovated Vivid Live, mingle with fans, sign autographs and pose for snapshots.
"I love Houston," says Monique. "It's a great sports town and it's both energetic and laid back at the same time. I always enjoy myself when I'm there," she said.
When she's not making movies, Monique is behind the mic at the Vivid Radio studio with her show Vivid Girl: Monique Alexander. Her show is heard on Mondays from Noon to 1 pm PT on www.vividradio.com as well plus through the SiriusXM app and on channel 791.
A serious sports buff, Monique was a sports reporter on the National Lampoon Radio comedy show and also represented the adult industry in a debate during Sex Week at Yale University. She has won multiple awards for her film performances.
Guests at Vivid Live enjoy a complimentary gourmet lunch/dinner from 11am to 7pm, Mon-Fri and a breakfast buffet from 2-4am on Thurs, Fri and Sat. With bar drinks, wine and domestic beer daily at $2.75 until 9pm, the club offers the best Happy Hour in Houston.
The 12,000 ft. club, which is located at 2618 Winrock Blvd. (just off Westheimer Rd. in the Briargrove area), sports a new state-of-the-art light show, the hottest DJs, lavish new furnishings, three stages on the main floor and another in the VIP bar. The multi-level club also features a Champagne Room, Private Dance Room and Sky boxes.
It should be a fun weekend with Monique Alexander performing there, wish I could make it out there!