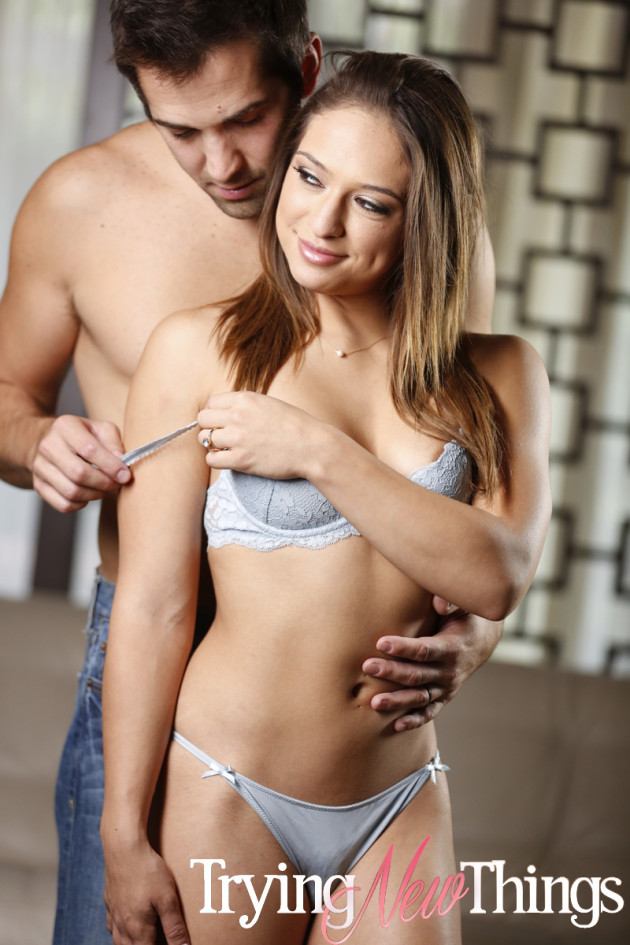 New Sensations has released Trying New Things, a new volume in its acclaimed and bestselling romance series Tales From the Heart. The couples-oriented vignette is written and directed by Jacky St. James and features performances by Casey Calvert, Alison Rey, Kasey Warner, and cover-girl Sara Luvv.
"Trying new things is always an exciting moment in a couple's relationship, regardless of what that new thing may be," Jacky St. James said. "Sometimes it may be a mutual interest and other times it involves making yourself vulnerable to please your partner. It's something most healthy couples face and I was happy to explore in 'Trying New Things.'"
Tales From the Heart: Trying New Things features 4 stories of couples stepping outside their comfort zones to experiment sexually with each other. For some, it's trying a new sex act, and for others it's losing all inhibitions to fulfill their partner's fantasies.
Casey Calvert plays a married woman who surprises and delights her husband when she announces they will try anal.
Alison Rey is determined to save her virginity for marriage, but gives in to her urges when she sees the hunger in her fiancé's face.
Kasey Warner overcomes her submissive nature to dominate her husband, who is eager to see what she will do once in control.
Married for three years, Sara Luvv is shocked to discover her husband enjoys watching porn when she's not around. They both soon learn how much hotter it is to watch together.
"It's always fun to try something new, and I especially love trying new things in front of Jacky St. James' camera," Sara Luvv said. "It was my first time shooting with Donnie Rock and he was so sweet and fun. Our scene was about couples watching porn together which is something I think every couple should experience."
Based on the trailer, it looks like we're in for a real treat. The girls are gorgeous, the action is hot, and I am really excited to check it one out!
>> Order your copy of Trying New Things today!