You don't get to be a Hustler Anniversary Cover Girl for nothing. Just ask Scarlet Red. Better yet, just get an eyeful of this beauty, and while you're at it, get a handful of the raging boner you'll get as soon as you see her strip down and do the nasty. Scarlet Red has blonde hair, which might be confusing because of her name, but with her ten-on-ten looks, we'll forgive her for being misleading.
Her face is pure haute couture model material… the kind you'd never expect to see burying itself in vagina or swallowing monster dong, let alone getting covered in gooey population paste. Contrarily to expectations, Scarlet loves betraying her high-end looks with some low-down filth. She's done solo work, toy work, blowjob scenes, lesbian movies, and hardcore guy-girl crotch slamming. With her awesome body, she can sometimes pull off the teen look, thanks to her real perky teardrop tits.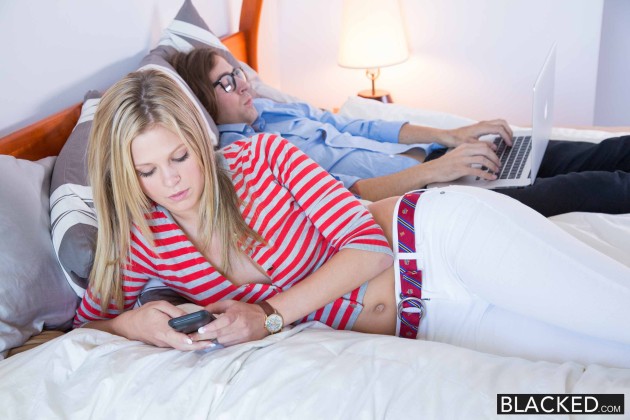 She's also got a maturity to her that she can summon up with a flick of her clit, so someday she's going to be a wicked man-eating cougar. We're in no rush for this babe to fully develop, though, as we're happy to watch Scarlet slowly turn from smut starlet to porn superstar, film by naughty film! And you can see it in her dreamy eyes when she gets a sausage stuffing that she just loves to get fucked!
We think Scarlet Red is one of the hottest newcummers to the world of porn, and if you haven't seen any of her scenes before, you're in for a real treat. So break out the Kleenex and prepare for an epic wanking sesh with the gorgeous Scarlet Red, our latest Porn Star Of The Week!
You can check out a work-safe gallery of Scarlet Red below:

Wwant to see more of her hardcore scenes? Then head over to Adult DVD Empire to see all of her movies!