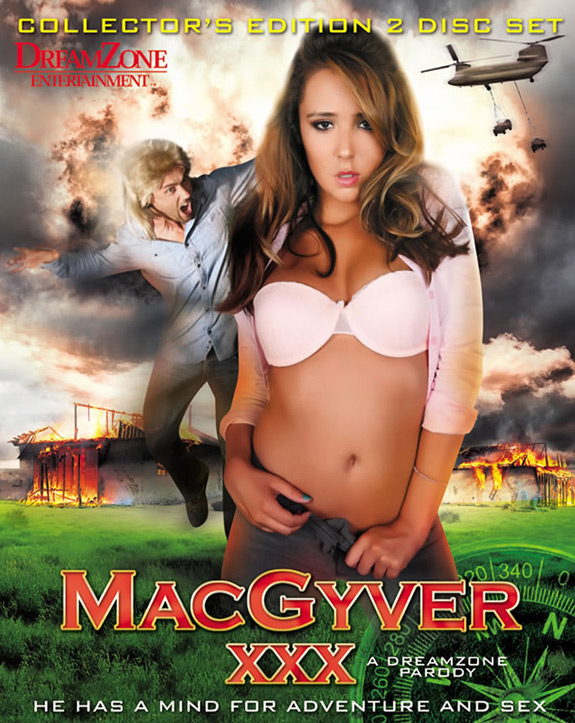 Television in the 80s was something special.. Shows like Knight Rider, Airwolf, The A-Team, and others captured my hearts as a young child. But if there was one show that really got me pumped, it was MacGyver!
Each week, the secret US government agent would narrowly escape certain death by jury rigging everyday objects to extricate himself from peril. No matter what situation he faced, Macgyver always defeated his adversaries with his cunning, crafty skills and whatever materials were on hand.
So when I heard that DreamZone was releasing MacGyver XXX: A DreamZone Parody, I couldn't wait to watch it. And as luck would have it, they sent us an early screener to review!
Here's the synopsis for MacGyver XXX:
MacGyver knows how to get out of a jam. Using ordinary household items, Mac can solve just about any crisis. But when his best gal Friday and his ex-girlfriend are kidnapped by a nefarious criminal, he's going to have to use a whole new set of tools, including a rubber fist dildo, a condom, and a potato-chip can to save the day this time. But once he's found out that he's been double-crossed six ways from Sunday, the question is: will he want to? For the first time, MacGyver's loyalty to the Phoenix Foundation will be tested in a way that he might not be able to accept.
Campy sounding for sure, but so was the original TV series. But unfortunately, MacGyver XXX just didn't work for me. Done properly, this movie could have been amazing. Instead, it was just cheesy and misguided. Horrible acting, a "plot" that was tough to follow, and MacGyver's wig was kind of a boner killer.
That said, I did enjoy Ella Milano's scene with Murdoc. It wasn't her greatest scene ever, but a sex scene with Ella Milano is like pizza – Even when its bad, its still pretty good.
Surprisingly enough, I really enjoyed Sabrina Taylor's scene as well. She's a little Latina with an all-natural body, and even though she's carrying a little extra weight, she wears it well in this scene. My first time seeing her, but hopefully it won't be the last.
Sasha Sweet's lesbian scene with Ella Milano was tough to watch, it just seemed really forced and not sexy at all. Had they cast a sexier partner for Ella and used some of those toys nearby, this could have been a really standout scene. But unfortunately it missed the mark for this guy.
The trailer for the movie hasn't been released yet, but check out these photos from the movie:
MacGyver XXX: A DreamZone Parody is set to be released in mid-January.