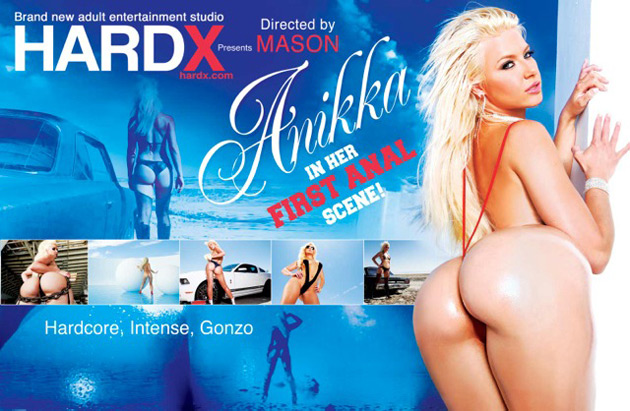 The first anal scene for rising starlet Anikka Albrite is available soon, and fans can get their first taste for the sexy, hardcore scene by viewing the trailer from Hard X studio. Star showcase Anikka is directed by Mason and distributed through the production / DVD division of O.L Entertainment.
Anikka will be released in early October 2013, but you can click here to view the NSFW trailer now.
"Over the past few years I've been in the industry, I've grown very close with my fans, so I want to dedicate this movie to you guys," admits Anikka Albrite in the Hard X trailer for Anikka. "I worked very hard on this movie, and I had an amazing, epic experience… so I hope you enjoy it as much as I did making it."
The trailer can be viewed through the splash page for the upcoming official website for Hard X studio – www.HardX.com. Launched from O.L. Entertainment, Hard X will feature stylized, hardcore showcases and gonzo films in Mason's trademark technique.
"Anikka put her heart and soul into this movie. I'm so thankful for what she gave to this production," states Mason. "Her performances exceeded all expectations, including, over 40 minutes of non-stop anal. I couldn't believe it was her first! Anikka is both an intense sexual and emotional journey, which I hope the fans will love!"
Anikka features its namesake blonde beauty in four must-see scenes: her first boy / girl anal, a boy / girl / girl threesome with Riley Reid, a two boy / boy / girl threesomes, including an interracial tag-team on Anikka. Every scene begins with a gorgeously shot solo tease before Anikka gives in to her sexual desires.
O.L. Entertainment has given us a one-two punch with sensational trailers for both Anikka and Eternal Passions (from Hard X's sister studio, Erotica X). I for one can't wait for these movies to be released!