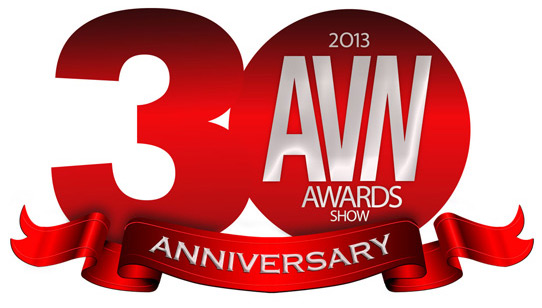 AVN Media announces its list of nominations for the 2013 AVN Awards. The collective breath the adult entertainment industry has been holding while it anticipates the announcement of the nominees for the AVN Awards can be exhaled. The highly sought-after list of nominees for the 2013 AVN Awards has arrived.
To view the list of 2013 AVN Awards nominations, visit:
http://avnawards.avn.com/2013_nominations.pdf.
A committee of 10 AVN critics spent close to a month and a half compiling nominations in over 130 categories recognizing companies, talent, technicians, and creative professionals across the spectrum of the adult entertainment industry.
Several new categories were created to reflect the ever-evolving market trends of the business; these include Best Star Showcase (a movie centered around one female performer by both incorporating her name into its title and featuring her in all of its sex scenes), Best Romance Release (a title with a romance theme/storyline marketed specifically toward women or couples and/or released under a Romance or Couples-Themed line), and Best Transsexual Sex Scene.
Additionally, a number of formerly familiar categories have been reintroduced to the awards as the market has expanded accordingly. Back for 2013 are Best New Production Company and Best Continuing Series (which was previously known as Best All-Sex/Vignette Series).
Finishing up the housekeeping, Best Feature was renamed Best Drama in order to properly complement Best Comedy, and Best All-Sex Release – Mixed Format was retitled Best Wall-to-Wall Release for those releases mixing scene genres between gonzo, vignette and all-sex.
"Everybody on our nominations committee has literally poured their blood, sweat, and tears into producing this list over the past six or so weeks, and I can honestly say that in my almost decade at AVN, I don't think we've ever done a more meticulous and thorough job," AVN Senior Editor Peter Warren said. "I am very pleased with the nominees we've come up with, and wish them all a stupendous weekend basking in the glow of being recognized."
"I'm really proud of the work the nominations committee did," said AVN Managing Editor Steve Javors, echoing his colleague's comments. "The 30th anniversary of the most important night in adult entertainment is something we all took seriously, and being an AVN award nominee is a big point of pride – rightfully so. Our nominees should be congratulated and recognized for a job well done. On behalf of everyone at AVN, we appreciate all your contributions to the world of adult entertainment."
The AVN Awards take place January 19, 2013, at The Joint in the Hard Rock Hotel & Casino in Las Vegas. AVN Media Networks recently announced the 2013 Award Show hosts – adult superstars Asa Akira and Jesse Jane, along with the show's musical guest, hip-hop sensation Tyga.
A limited number of tickets to the gala Awards event are available for fans to purchase through AVNAwards.com.