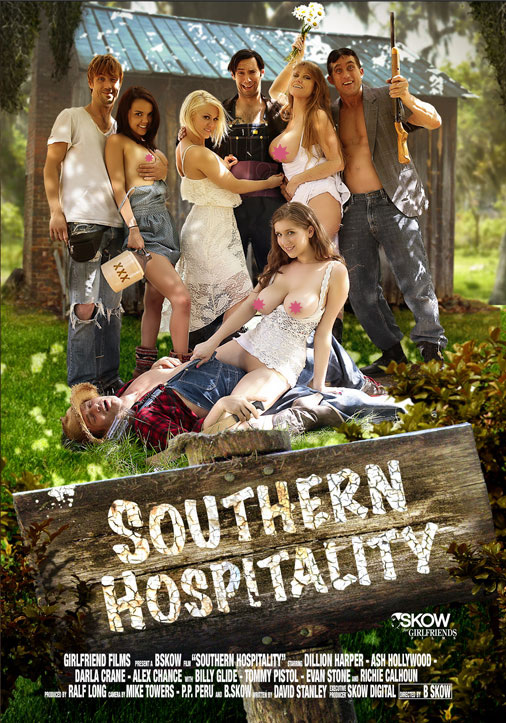 B. Skow's got a new movie coming out called Southern Hospitality, a hilarious romp of backwoods loving that touches on polygamy, moonshine, redneck jokes, and hillbilly lust.
Southern Hospitality features Dillion Harper, Ash Hollywood, Darla Crane, Alex Chance, Billy Glide, Tommy Pistol, Evan Stone, and Richie Calhoun, in a script written by David Stanley, who also penned Homecoming and Daddy's Girls.
Girlfriend Films has just released the NSFW trailer for your viewing pleasure, and as you can see, this movie looks pretty epic!
"I'm very happy to present Southern Hospitality to my fans," says B. Skow. "Having done a variety of projects ranging from drama to humor to hardcore, this project has been a riot from beginning to end. Viewers should be thoroughly entertained by these country bumpkins – the sex scenes are extremely hot as well!"
In Southern Hospitality, Jon Jo is married to three brides – named Small, Medium, and Large. On the night of his third wedding, a criminal family of moonshiners known as the Fuggs makes their way onto Jon Jo's thirty-acre property to set up camp and evade the law. The Fuggs – made up of Mama Fugg and her three sons, named Teeny, Tiny, and Mighty – engage in sexual shenanigans with Jon Jo's brides. Jon Jo, who tries to go after the Fuggs, ends up getting caught, and has to make a deal with the moonshiners, which makes everyone very happy indeed.
Girlfriends Films Vice President Moose says, "Southern Hospitality is a really fun film. The actors are top-notch, and the scenes, both sex and non-sex, are of a similar caliber. In this project, B. Skow presents a film that reminds us of the fun in porn, which is much lighter than his past couple of releases. He shows amazing range in the films he presents to us that we rarely see in directors, and we are happy to present Southern Hospitality to our fans."
Southern Hospitality hits shelves on October 29th, and you can pre-order the movie now!