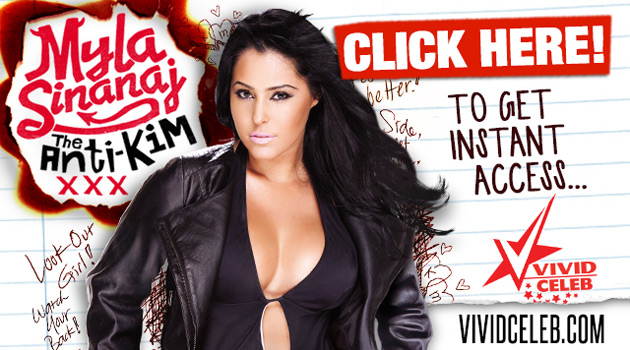 Myla Sinanaj: The Anti-Kim XXX from the world's leading adult film company, Vivid Entertainment, is now available online at vivid.com and can also be viewed on Vivid TV. The DVD of the movie will be in stores across the country on November 19th.
Many Hollywood-watchers have said Ms. Sinanaj, the voluptuous star of the movie, is obsessed with looking like Kim Kardashian. Not only is there a strong resemblance between the two, but Ms. Sinanaj dated Kardashian's ex-husband, Kris Humphries, and now Vivid Entertainment distributes movies starring both women.
Ms. Sinanaj has admitted that she and Ms. Kardashian do have similar large booties. "I don't know, she's Armenian, I'm Albanian," says Ms. Sinanaj. "I guess women from our countries just come with them."
In The Anti-Kim XXX, Myla proves she's not at all like Kim Kardashian when it comes to sex. She displays her unequalled, sensuous style as she enthusiastically tries different moves with her athletic partner.
Viewers will get a last look at her curvaceous body in the movie, as Sinanaj underwent major plastic surgery after it was made. She explained, "I'm in love with the body that Kim Kardashian had prior to her pregnancy, especially her lips and stomach. The rest of the world is apparently obsessed with it as well, since they have all felt the need to call me the Fat Kim K."
I've already watched the video (call it research for this post), and I can tell you that it's MUCH hotter than the infamous Kim K video.. So if you like voluptuous girls with big booties who love to get down in the bedroom, you're in for a real treat here!