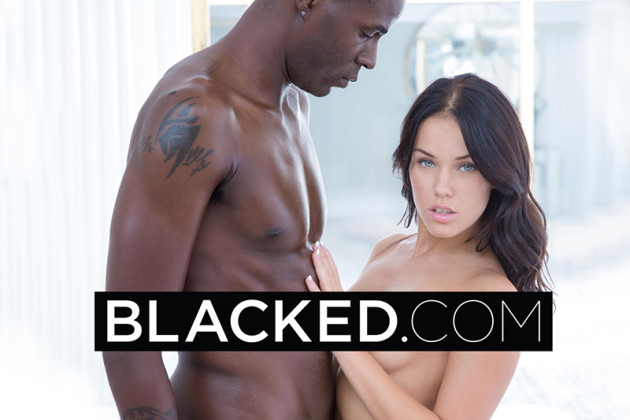 Megan Rain is one of the most popular new stars of this year, and for good reason. Just look at her, she's absolutely stunning, like a naughty version of Megan Fox!
The popular performer has teamed up with Blacked.com, the leader in producing high-end interracial erotica, as they showcase the stunning beauty in a two episode feature. For her first IR scene, there was only one studio she wanted to work with – Blacked.com.
"Many of my fans have wanted me to film with Blacked.com! The demand on social media was crazy," said Megan. "I had always wanted to be part of the site, it's a great honor to be cast for it as they are extremely selective. Blacked.com is such a strong brand everyone knows about it. Greg Lansky has such a unique vision and working for him is really an incredible experience."
Her "Preppy Teen Experience Big Black Cock!" scene debuts on Blacked.com today, and here's the story:
Megan is eager to get into one of the best schools around. The only thing from stopping her getting exactly what she wants is the fact that she hasn't done active service for them – well, thats about to change! She has been tutoring Jason, one of the school's top athletes for 3 weeks to help him keep up his grades, and that's not all he is going to keep up when Megan has finished with him! Jason has had enough of studying and has his sight set on Megan's sexy body. She finally gives into his advances, because she's been fantasising about his big black cock for too long. when she sees what he's got in his pants, she can't wait tot get it in her mouth. She sucks it slowly, gagging on it, before he gently eases it into her waiting pussy. He is soon pumping her so deep, it takes her breath away. He takes her from behind, delivering every inch into her. After she sucks every drop out of him, she is left eagerly waiting for their next tutoring session.
I've watched the NSFW trailer more than a few times, and it's pretty sensational! So stop what you're doing and go watch Megan Rain's first IR scene right now at Blacked.com!