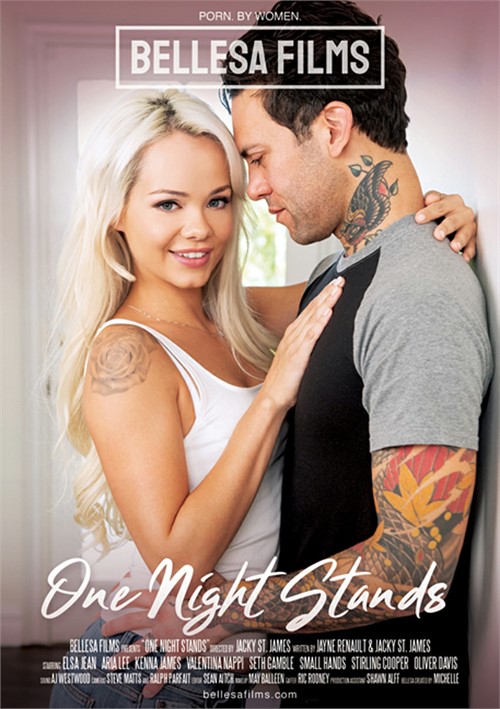 Bellesa Films has quickly become one of my favorites, a new studio created by women for women, and the stuff they've been putting out has been insanely hot.
Now, they've got off a new series called One Night Stands, and they've brought together a sensual cast of adult all-stars for the opening chapter, with the stunning blonde beauty Elsa Jean leading the charge.
Directed by the acclaimed Jacky St. James, One Night Stands features Elsa Jean, Aria Lee, Kenna James, Valentina Nappi, and male co-stars Small Hands, Seth Gamble, Stirling Cooper and Oliver Davis in four tales of one-nighters.
"Elsa, who claimed the box cover, was a delight to work with and an absolute dream with her infectious energy and dedication," St. James said. "Like Elsa, Aria, Kenna and Valentina were amazing on camera, sharing their passion and chemistry with our talented male performers. It's truly a great debut for this series."
Here are the descriptions for the scenes in One Night Stands:
Scene 1: Just out of a five-year relationship with a woman who never wanted to leave the house, Oliver is now backpacking through Europe and finally satisfying his need for adventure. He meets Valentina and quickly becomes entranced with her beauty, her long brown hair and the very little Italian he could understand from her. Tension builds until it finally reaches that boiling point.
Scene 2: Elsa is home alone when someone breaks into her new house. With her boyfriend out of town, she calls Small Hands to come over. He accidentally falls asleep, and wakes up in the middle of the night, face to face with Elsa in bed. It's too late to go home now…they start kissing and the tension for touch bursts into a sensual sex scene.
Scene 3: Her dad's best friend, and now also her boss, Kenna knew that Stirling was technically off-limits. But the power dynamic…excited her. It made her feel like the powerful one. And she was. When the AC breaks on a hot summer day, with no client meetings scheduled, both Kenna and Stirling decide to remove a layer or two of their fancy lawyer clothes to cool down…just until the AC guy would arrive. Harmless, right? There's nothing like that post first-date sex energy that takes over you so unexpectedly.
Scene 4: Aria is still asleep, as Seth gets ready for work in the bedroom mirror. He starts getting intense flashbacks of the late night, fumbling into the house and ripping each other's clothes off after a few too many cocktails. He indulges in his memory and just has to wake her up to say goodbye.
This movie looks to have it all. A stellar cast, a director who really knows how to turn up the heat, and 4 sexy scenes that are sure to please. Can't wait to watch this one!
>> Order your copy of One Night Stands today!