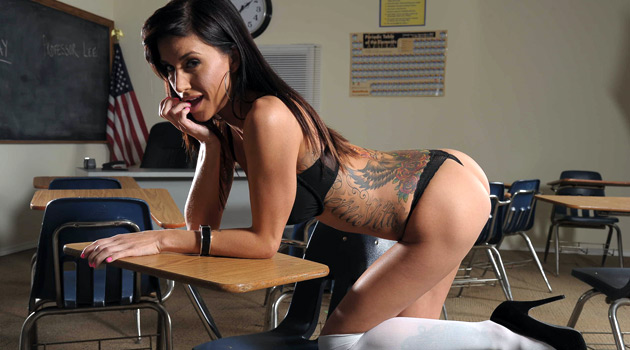 One of our long-time readers e-mailed me over the weekend complaining about the growing trend of tattoos on porn stars, and when I stopped to think about it, I realized that he was absolutely right. While it was pretty common to see a porn star with a tramp stamp or small butterfly on her foot back in the day, over the years there's been a drastic shift, and now we're seeing more and more girls with full sleeves, huge back pieces, and things like that.
Now don't get me wrong, there are times when I'm in the mood for some ink, and when the mood strikes I'll normally pull up some Joanna Angel, Christy Mack, or Belladonna and get lost in a taboo fantasy.
But when I'm looking for a normal spank sesh and Tory Lane's HUGE back tattoo comes into frame, I'm not going to lie, it's an instant boner killer for me. The same goes for Emma Mae, who in my opinion is one of the hottest porn stars around.. But why did she have to tat up her entire arm?! (Sorry to call these two girls out, but they were the first ones to pop into my head)
I've got no problem with simple tattoos that don't detract from the action (like Riley Reid's back tattoo with the Chinese symbols), but it's troubling to see how many mainstream porn stars are getting heavily inked.
I realize that tattoos are a means of self expression and all, but when you're doing porn and your body is your moneymaker, you'd think they'd show a little restraint, right?
If any porn stars happen to be reading this, I'd love to hear from you guys and get your take on it.