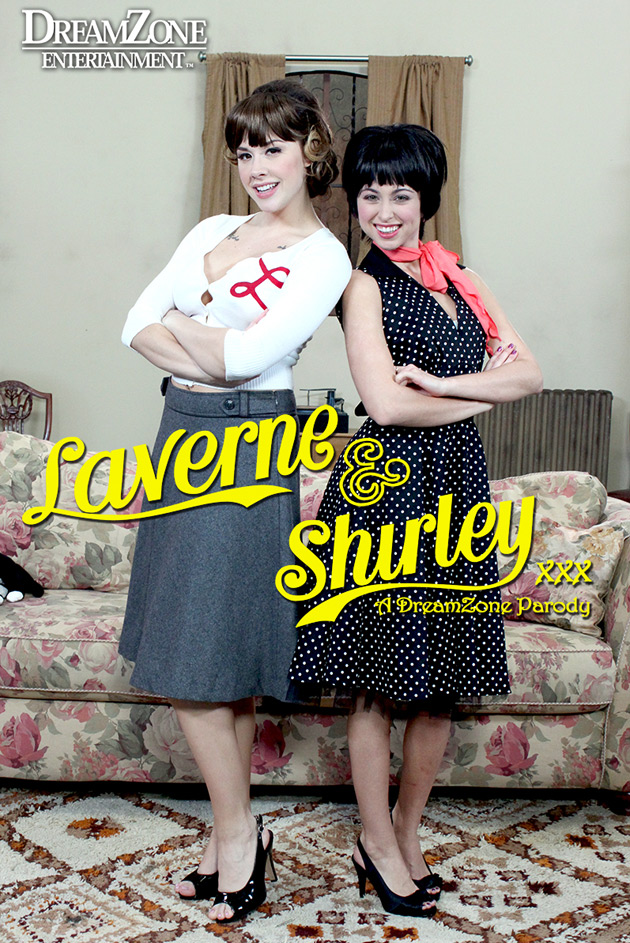 DreamZone Entertainment has announced an August release date for their newest blockbuster feature-length parody, Laverne & Shirley XXX: A DreamZone Parody. The porn satire of the highly rated sitcom stars Chanel Preston as Laverne and Riley Reid as Shirley. Directed by Jordan Septo, the satire follows Laverne & Shirley and their ragtag group of friends as they make their dreams come true.
In the new DreamZone version of Laverne & Shirley XXX, Chanel Preston and Riley Reid play the title characters, who find themselves in a predicament that can only be solved by using tactics that never would have made it into the original sitcom—fucking and sucking. Squiggy and Lenny are played by Tommy Pistol and Seth Gamble respectively. Shirley's boyfriend, the Big Ragoo is played by Anthony Rosano, Laverne's father is played by Evan Stone and Mrs. Babish, the girls' landlord, is played by Raylene.
Laverne & Shirley are two all-American girls from Milwaukee, doin' it their way. They're trying to make their dreams come true, but when their landlord, Mrs. Babish, comes looking for the rent, reality sets in. With the help of their horny neighbors, Lenny & Squiggy, Lavern's father and Shirley's boyfriend (The Big Ragoo) the girls will do their best to stave off the impending eviction and continue to make their dreams come true. Will the girls get evicted? Will Lenny & Squiggy quell their insatiable sexual appetites? Will Laverne & Shirley FINALLY get it on? Tune in to the next episode of 'Laverne & Shirley XXX' to find out!
DreamZone just released this safe-for-work trailer:

Director Jordan Septo stated, "The Lavern & Shirley parody was definitely one of the funniest parodies we've done so far. It was great fun emulating the classic characters from one of America's most iconic sitcoms of it's era. Chanel Preston and Riley Reid did a stellar job of portraying Lavern & Shirley respectively and their scenes were some of the hottest I've ever shot."
Laverne & Shirley XXX: A DreamZone Parody is a 2-disc deluxe "collector's edition" that will also include friendly versions of some of DreamZone's classic parody adaptions, as well as bonus scenes, trailers and photo galleries.
We'll be posting more information as it becomes available!