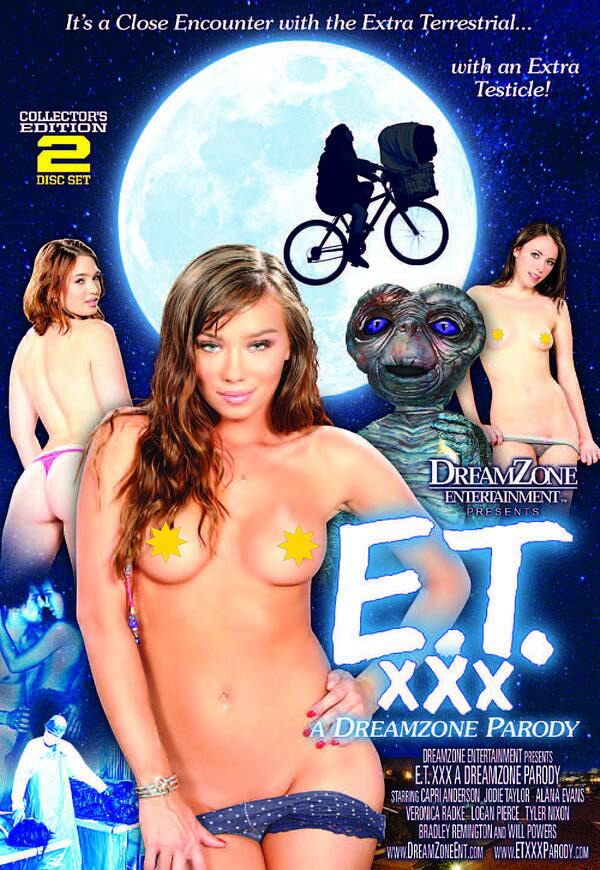 DreamZone Entertainment has announced an October release date for their newest feature-length parody, ET XXX: A DreamZone Parody. Get set for the adventure of a lifetime as a group of college kids help a loveable and oversexed alien find his way home. Starring Capri Anderson as Elle, a lonely girl who develops a special bond with a stranded space creature. From director Jim Powers, comes ET XXX, a movie that will tug on your heartstrings and even harder on your cock.
In the new DreamZone version of ET XXX, Capri Anderson plays the part of Elle, the female counter-part to Elliott. Elle befriends a lonely and very horny alien, when he becomes stranded on Earth after separating himself from his ship just long enough to beat off in the bushes. Elle happens upon the pitiful alien, and just as in the original film, a touching and symbiotic relationship is formed between the pair. Other cast members include Veronica Radke, Jodi Taylor, Alana Evans, Logan Pierce, Tyler Nixon, Bradley Remington and Will Powers. It's a close encounter with the Extra Terrestrial…with an Extra Testicle.
A special suit was designed specifically for the DreamZone ET, and just as in the original film, DreamZone's ET has a light up appendage. But as you guessed it, it's not his finger. ET used the light up penis to jerk off in a mutual masturbation scene with Capri Anderson as well as in a spectacular sex scene with Jodi Taylor and Bradley Remington.
Jim Powers said, "The original suit cost a million dollars to make. Obviously, we were working with a tighter budget, but you wouldn't know it by Cleve Hall's amazing job! This film proves that everyone in the universe is the same, and that we all want the same thing, a good fuck. The entire cast did a great job, giving great scenes. Getting Capri Anderson to come down at the last minute was a lucky break for us. She was very professional, and I think we can all agree that she has the most amazing tits in the business. I think the fans will especially love the scenes with Capri Anderson with the alien as well as Jodi Taylor's sex scene with the alien. Both were extremely hot!"
ET XXX: A DreamZone Parody is a 2-disc deluxe collector's edition that will also include friendly versions of some of DreamZone's classic parody adaptions, as well as bonus scenes, trailers and photo galleries.
ET was one of my favorite movies growing up, so I can't wait to see what DreamZone does with ET XXX!
>> Purchase ET XXX: A DreamZone Parody from adultdvdempire.com.