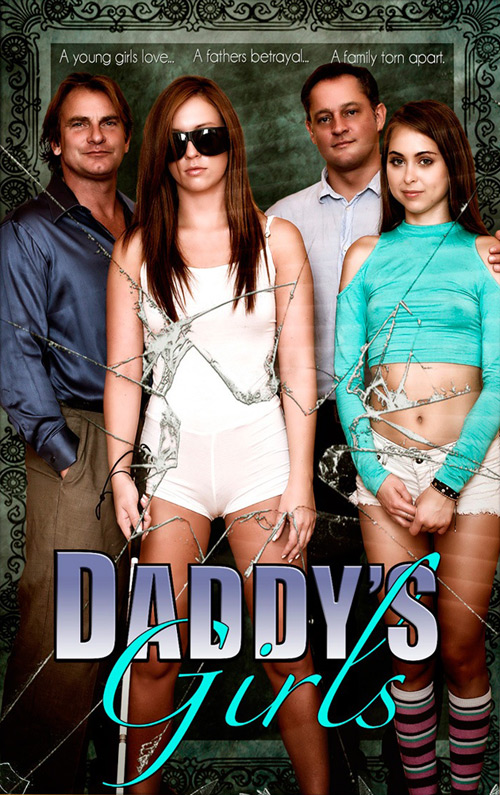 By now, you've probably heard the controversy surrounding Daddy's Girl, a film that boldly breaks unwritten rules keeping adult filmmakers away from taboo topics such as rape, incest, and people with special needs, like the blind. Director B. Skow dives into this murky underworld headfirst, and the results are nothing short of extraordinary.
But be forewarned, this movie isn't for everyone. Read the synopsis and decide for yourself:
Daddy's Girls tells the story of Samantha, a blind 18-year-old girl who falls into an illicit affair with her father's best friend, Dale, after he forcibly takes her virginity. When he puts an end to their relationship, she attempts to take her life and is sent to a psychiatric ward for care and observation. Her friend Quincy, meanwhile, is also pining for Dale. The fact she is his daughter doesn't seem to sway her advances, which include eating his discarded semen and physically assaulting her mother for dibs on a night with daddy.
Yes, this is a dark movie, one that will leave you feeling guilty over that nut you just busted, but there's really nothing to be ashamed about. You're merely watching porn stars playing a part. After all, Maddy O'Reilly isn't really blind.. But she plays the role so well, you almost believe she is!
It's tough to talk about the movie without ruining some of the most shock worthy moments. But let's just say that Samantha's walking stick ends up in her pussy at one point, and it's fucking hot! Don't judge me.
I'm a sucker for Maddy O'Reilly and Riley Reid, so having these two stunners in this movie sealed the deal for me from the get-go. And let me tell you, they didn't disappoint! They delivered amazing performances, both acting wise and fucking wise. And their girl-girl scene, well that was just the icing on the cake.
Personally, I feel that Daddy's Girl is one of the best movies of the year, and I'm giving it a 5/5. If you only purchase one movie this year, make sure it's Daddy's Girls.
>> Purchase Daddy's Girls from adultdvdempire.com.