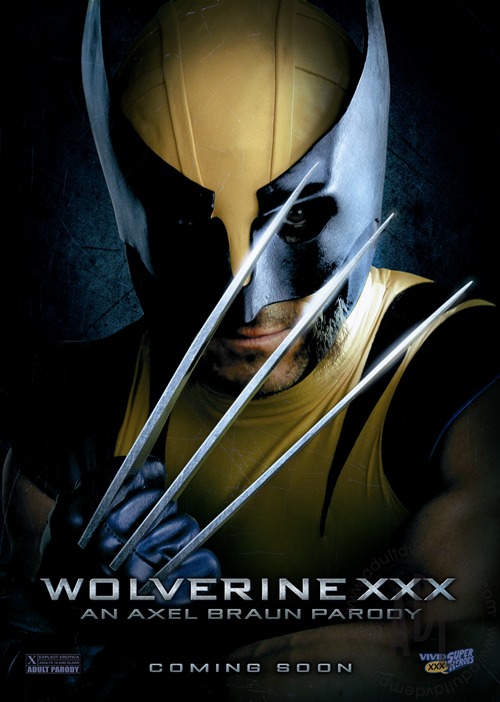 Acclaimed director Axel Braun and Vivid Entertainment have teamed up for another blockbuster, and this time they're giving one of the most beloved comic book superheroes the porn parody treatment.
Wolverine XXX: An Axel Braun Parody pits mortal enemies Wolverine (Tommy Gunn) and Sabretooth (Evan Stone) against one another in a plot that's actually pretty engaging. So much so that I actually fast-forwarded through the sex scenes on my first viewing, just so I could see how the movie played out!
Here's the synopsis for Wolverine XXX:
Take porn legends Tommy Gunn and Evan Stone, in two career-defining performances as mortal enemies Wolverine and Sabretooth, add superstars Aiden Ashley, Andy San Dimas, Asa Akira, Maya Hills, Allie Haze, and Charmane Star, throw in a scene-stealing turn from Derrick Pierce as the wise-cracking anti-hero Deadpool, and bring back Xander Corvus in his award-winning role of Spider-Man, all directed by undisputed porn parody king Axel Braun, and what do you get? The most hysterical, geek-gasmic, sexy superhero spoof of the year!
And here's the trailer they released:

Unfortunately, the trailer is nothing more than the first two minutes of the movie, but it gives you a little taste of what to expect from Wolverine XXX.
Fans of the X-Men franchise should be thrilled by the cast of characters they've brought together for this movie, including Wolverine, Domino, Mariko, Lady Deathstrike, Sabretooth, Rogue, Spiderman, Deadpool, Phoenix, Nick Fury, Professor Xavier, Dr. Cornelius, General Stryker, and more.
I'm not going to spoil the story elements for you, as half the fun is watching the story unfold. What I will say is that this is one of the best superhero parodies I've watched in a long time, and it should appeal to die-hard comic book fans and regular porn fans alike.. As well as those with costume fetishes.
The movie consists of five sex scenes, and all of them bring the heat. Here's a quick rundown:
Scene 1 : Wolverine and Domino waste no time, with her dropping to her knees to blow him before he fucks her every which way till Friday. A great sign of things to come.
Scene 2 : A flashback sequence featuring Mariko and Charmane Star in a hot lesbian tryst. The end of this scene helps sheds some light on Wolverine's beef with Sabretooth.
Scene 3 : Lady Deathstrike tries to calm down the agitated Sabretooth by offering up her sweet pussy and ass as a distraction, which he gladly accepts.
Scene 4 : Rogue gets double-teamed by Spiderman and Deathpool. Sure, they might be working on different sides, but the power of the pussy brings these two together!
Scene 5 : Wolverine and Phoenix have a hot outdoor tryst that's sure to get you heated. By far, my favorite scene of the whole movie.
All in all, I thought this was one of Axel Braun's best superhero parodies to date. It's a fun flick that will appeal to a large audience, and comic book fans will surely appreciate the numerous nods to the source material, even if it goes right over non-fans heads. This is definitely a movie you're going to want to check out when it's released.
>> Purchase Wolverine XXX: An Axel Braun Parody from adultdvdempire.com.
DISCLAIMER: 'Wolverine XXX: AN AXEL BRAUN PARODY' IS A PARODY MOVIE. This movie is not sponsored, endorsed by, or affiliated with any entity owning the rights to the characters parodied therein or the work being parodied.