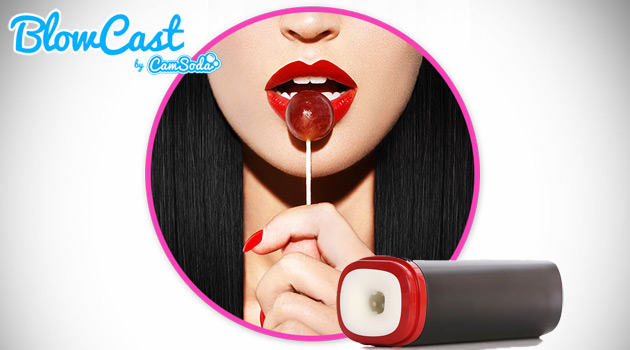 CamSoda has just launched the "iTunes of Blowjobs", an on-demand marketplace that offers a catalog of simulated blowjobs from renowned webcam models and amateurs for users to choose from.
It's called BlowCast, and similar to purchasing a song from a popular artist on iTunes, BlowCast enables you to purchase a simulated blowjob, no matter the time or location, to be downloaded instantly. All blowjobs will initially be free for download; after 30 days each blowjob will cost $1.00.
So how exactly does one go about getting a digital blowjob? BlowCast uses teledildonics technology, which, in short, records tactile movement on a dildo and replicates each movement in a "sleeve" (at a cost of $250). The user inserts their member into the sleeve and the gyration mimicking the individual blowjob ensues.
BlowCast has launched with over 50 recorded blowjobs from CamSoda webcam models and amateurs. For amateurs who are interested in making extra cash themselves, BlowCast allows those with the teledildonics "dildo" (Kiiroo Pearl) to record and upload their own blowjob to the marketplace for which they can collect royalties on purchases.
"Here at CamSoda we wanted to make blowjobs accessible to the masses. Now with BlowCast our fans can simply enter the marketplace and choose which blowjob they want, be it from a well-known webcam model or an up-and-comer who just uploaded their own recording," said CamSoda President Daron Lundeen. "Now users can be sitting in their homes receiving head from their favorite model with the quick touch of a button. Users no longer have to imagine. They can now feel. This marks the future of sex technology."
Following the debut of the marketplace, CamSoda has plans to continually update the BlowCast library with additional recordings as well as expand its offering to include vaginal and anal sex.
Pretty soon, we won't even need women anymore.. Isn't technology grand?