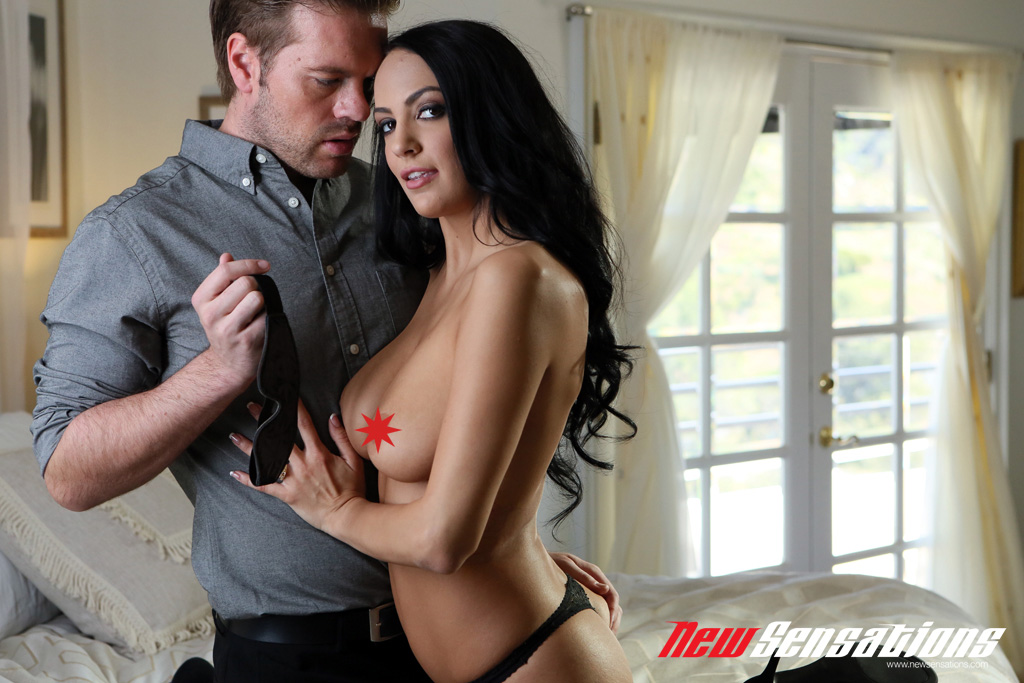 New Sensations has just released A Hotwife Blindfolded 3, a new volume in its Tales From the Edge series depicting sensory deprivation in hotwifing scenarios. The four scene vignette is directed by Paul Woodcrest and features a cast of up-and-coming starlets, including Sofi Ryan in her eagerly anticipated DVD debut.
A Hotwife Blindfolded 3 features happily married women taking lovers chosen by their husbands to fulfill their mutual wife-sharing fantasies. Being blindfolded, the wives experience a heightened sense of anticipation and excitement with their new partners.
Sofi Ryan discovers exactly why her husband has left her blindfolded when she's taken sexually by a strong and mysterious stranger she can't see and must obey.
Stella Cox informs her husband about their handsome new neighbor and together agree to initiate him into their kinky lifestyle with a little experiment in sensory deprivation.
Haven Rae surrenders to her husband's trusted friend, allowing him to manhandle her while bound and blindfolded and completely vulnerable.
Kendra Lynn's husband has tied her to a post and covered her sight while making her wait for the neighborhood lothario – notorious for pleasing married women.
"Being blindfolded was a unique experience," Sofi Ryan said. "It really makes you use your other senses because you can't see what's going on and it makes it more intense! The director was amazing and the makeup artist was a doll. Ryan Ryder, the male talent, was so sweet! Everyone treated me like a princess! It was an amazingly fun shoot!"
"It's always exciting when you add a new erotic element to something that is already highly sensual," Paul Woodcrest said. "It's what's made A Hotwife Blindfolded such an engaging series thematically and visually. It's also fun for our performers because they're having a real experience when that blindfold goes on – and that is very hot to watch as a viewer."
I've been a big fan of this series, and I'm really looking forward to watching Sofi Ryan and the rest of these up-and-comers as they tap into their naughty sides in A Hotwife Blindfolded 3.