Couples-friendly studio Sweet Sinner has just released Shades of Kink: Vol. 5, their most recent installment in the most popular BDSM and fetish themed adult series on the market.
Directed by James Avalon, Shades of Kink: Vol. 5 stars MILF superstar Julia Ann, who teaches young Logan Pierce all about domination and submission. The movie also stars Jodi Taylor, Scarlet Red, Marcus London, and Seth Gamble.
When a young, talented marketing man meets a famous author, he is at first taken with her. When she starts manipulating him with sex games, he begins to re-evaluate his erotic urges and begins down the dark path of bondage and discipline. "Shades of Kink: Vol. 5" features Julia Ann as the dominant seductress and Logan Pierce as her willing student.
You can watch a portion of the sex scene between Julia Ann and Seth Gamble on Fleshbot.com.
Fleshbot.com writer Holly Kingstown writes, "Ropes [bind] sweet Julia Ann's body up to make it look even more delectable. I love how that rope is defining the hell out of her curves and creating excellent handles to have her any way that Gamble wants to. God damn, she looks incredible with a cock in her mouth in this scene. She gets to enjoy the fine fucking that Gamble gives her…I love watching Julia Ann."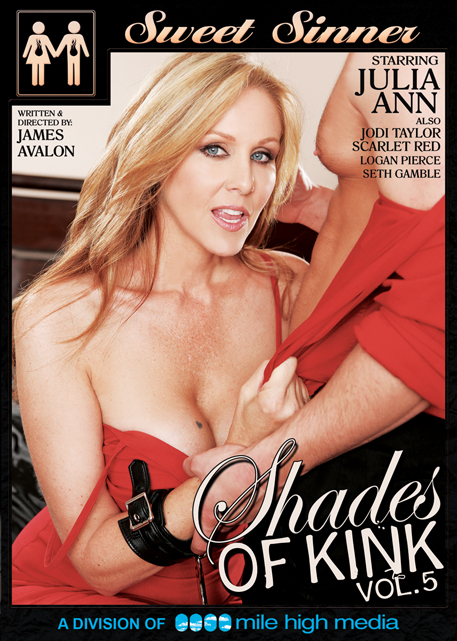 I've been a huge fan of the Shades of Kink series, and it looks like they've got another hit on their hands with this latest installment. Julia Ann continues the streak of amazing talent headlining the series, and it's a great series to welcome newcomers to the BDSM scene in a way that is sexy and enjoyable.
Check it out for yourself, you won't be disappointed!
>> Order your copy of Shades Of Kink: Vol 5 today!