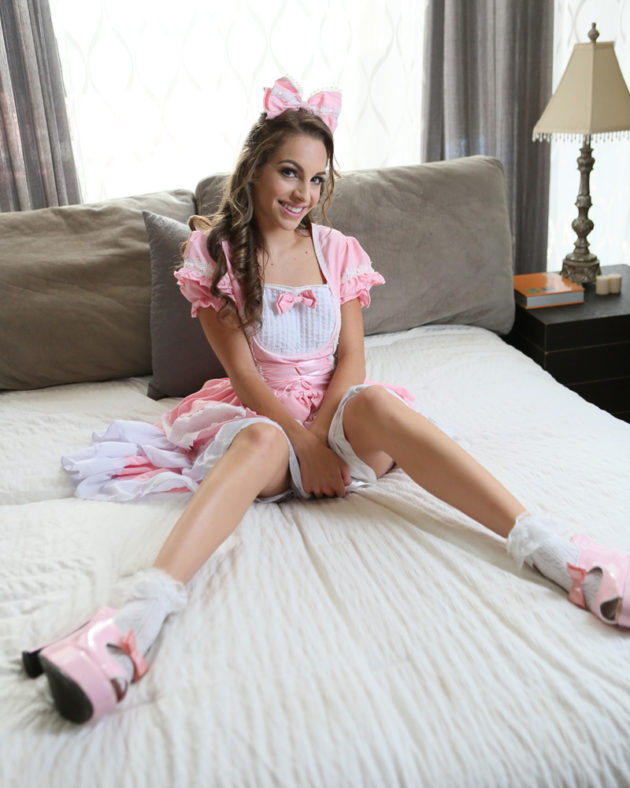 Digital Sin has released The Innocence of Youth 9, the highly anticipated new volume in its distinct line of living doll fantasy. Featuring brilliant ama-loli dresses and provocative storylines, the four scene vignette is directed by Paul Woodcrest and stars cover-girl Kimmy Granger, Aurora Belle, Kylie Quinn, and Gia Paige.
The Innocence of Youth 9 captures the total submission of four young women made to look like dolls for the pleasure of their lustful owners:
Kimmy Granger receives an authentic pink ama-loli dress from her master Chad White, who traveled to Japan to acquire it and hopes to keep it clean during their playtime.
Aurora Belle wakes to the sound of Mick Blue's voice to discover he has a play-date set for them and she should get dressed.
Kylie Quinn has waited patiently on her knees at the door for master Ramon Nomar to return home. She squeals with delight when he gives her new boots and is promptly reprimanded for the outburst.
Gia Paige helps wash the day away from James Deen, who rewards her with the only gift she wants.
"My scene was great – the style was a new feel for me so I had a lot of fun playing around with that type of fetish," Kimmy Granger said. "I think fans are gonna really enjoy seeing that sweet innocent side of me."
"Innocence of Youth 9 was such a fun project," Gia Paige said. "I loved the outfit and I really enjoyed working with James. My favorite part of the scene was the bath tub… and when you watch it you'll understand why."
Launched in 2012, "The Innocence of Youth" earned praise from consumers and critics alike for its bold and unique approach to the teen genre, taking home wins for Best Young Girl Series at the 2013 AVN Awards and Best Young Girl Release (Innocence of Youth 5) at the 2014 AVN Awards.
The Innocence of Youth 9 looks like another winner, and I highly recommend ordering your copy today!