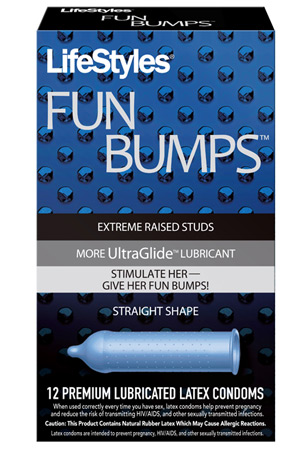 The folks at LifeStyles recently announced the latest advancement in textured condoms, LifeStyles Fun Bumps, which are designed to create ultimate stimulation with 25% larger studs.
Fun Bumps (which comes in a unique blue color shade) are premium latex condoms that feature UltraGlide Lubricant and intense raised studs to stimulate her most sensitive areas for maximum pleasure. Seriously, this condom will give her goosebumps, and will have her begging for more!
So what makes LifeStyles Fun Bumps better than other textured condoms? Fun Bumps have 420 intensely stimulating studs, strategically placed along the condom to excite in her all the right areas. They feature the latest advancement in textured condoms, extreme-raised studs featuring more than twice the volume of rubber in every stud than LifeStyles' standard studded products. Fun Bumps' studs are also 25% larger in diameter and 100% deeper than traditional studded condoms!
Heightening the experience and pleasure of safe sex with the help of silky, long-lasting, UltraGlide lubricant to extend pleasure, Fun Bumps add excitement with a hint of fresh mint flavor, making these condoms a natural choice for oral sex as well. Assuming she likes mint.. And oral sex.. Otherwise, I guess you're outta luck..
LifeStyles Fun Bumps condoms can be found at most big box retailers, drugstores, grocery and convenience stores across the country. You can also order them from online retailers such as drugstore.com, soap.com and amazon.com. The MSRP for a 10-count package of Fun Bumps is $8.99-$14.99.