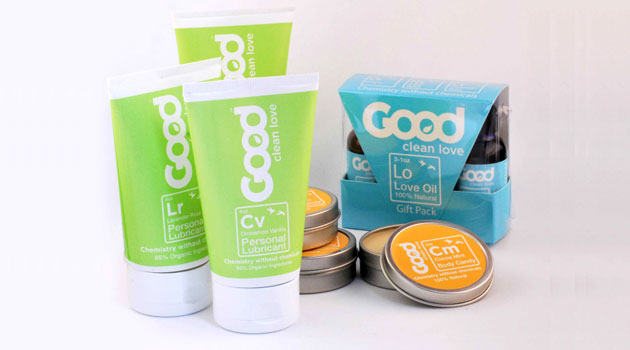 Good Clean Love offers organic personal lubricants that enhance your love making naturally.
You might wonder why such a product exists in the first place, and we were right there along there with you, until we had a little education lesson. This infographic shows the dangers of using OTC personal lubricants. Who knew that using regular lube could increases the risk of Bacterial Vagnosis by 13x??
Good Clean Love organic personal lubricants are 100-percent natural, with no parabens, glycerin, silicon, or petrochemicals, reducing vaginal dryness and increasing vaginal wetness naturally. We put it to the test (it's a tough job, but somebody's gotta do it), and it worked amazingly well. Unlike other lubes, this product provided a natural feeling that wasn't overly slippery. My girlfriend actually preferred this to the stuff we normally use, as it wasn't sticky, it didn't make a mess, and it felt really good.
It's also safe for latex, toys, and for use throughout pregnancy. Healthcare professionals and sex therapists nationwide recommend Good Clean Love, and now that we've used it ourselves, I can see why.
A 4oz bottle costs $15, while a travel-size 1.5oz bottle costs $10. They also have sample 4ml packs of three for $1.50, which are great because you can discretely travel with them, disposing of them after a single use.
The health benefits of using an organic lube like this simply can't be ignored, so I highly recommend making the switch to Good Clean Love's line of organic lube.