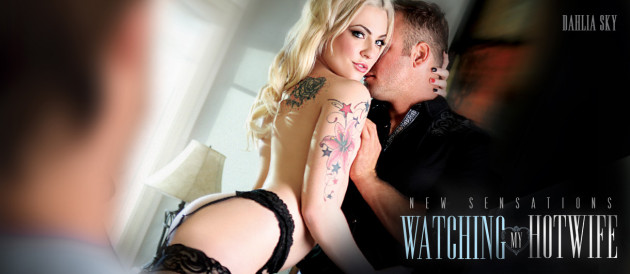 New Sensations has just released Watching My Hotwife, an innovative new P.O.V. series casting viewers as loving husbands in a variety of hotwifing scenarios. Directed by Paul Woodcrest, the four-story vignette features performances from superstars Dahlia Sky, Brooklyn Chase, Alison Tyler, and reigning AVN and XBIZ Performer of the Year Anikka Albrite.
"Experiencing the hotwifing fantasy from the perspective of the husband was something we knew was going to work out great. Whether you're a fan of hotwifing or just curious, being dropped right in the middle of that dynamic is exciting," Paul Woodcrest said. "We were also fortunate enough to have a wonderful cast. Dahlia, Brooklyn, Alison, and Anikka are very sexy and when they start talking to the camera it's very sensual and seductive. I won't be surprised if viewers end up talking to their TV screens and monitors."
Hotwifing is the practice of sharing one's wife sexually with other men and deriving pleasure from watching her arousal. Not to be confused with cuckoldry, the act involves no humiliation or displays of dominance. Watching My Hotwife is a sex-positive depiction of the hotwifing lifestyle and is inspired by true accounts.
Watching My Hotwife presents 4 scenes in which a hotwife takes a lover chosen by her husband. In the role of spouse, the viewer is playfully and lovingly engaged verbally by the hotwives throughout the scenes:
Dahlia Sky indulges in sensory deprivation and is thrilled to later discover the man touching her is a gift from her husband. Brooklyn Chase is madly in love with her husband and admires his willingness to not only have an open relationship, but to have the confidence and trust necessary to watch her. Alison Tyler and her husband have been talking about hotwifing for awhile and decide their anniversary would be the best time to make it happen. Anikka Albrite wants her husband to know everything she's feeling while riding the man he's brought home for her to enjoy.
There's just something so erotic about hotwifing, and New Sensations' Watching My Hotwife is the perfect way to explore this taboo fantasy world..
>> Purchase your copy of Watching My Hotwife today!