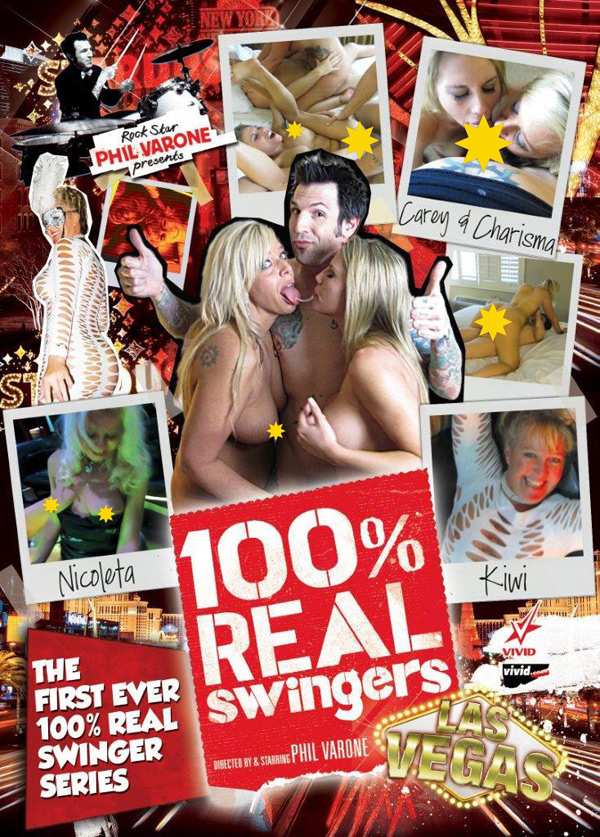 The latest in Vivid's popular 100% Real Swingers movie series will debut on Vivid.com on January 27th, and the destination is America's own Sin City — Las Vegas.
100% Real Swingers: Las Vegas is the follow-up to Swinging American Style: Vegas or Bust. The movie is directed by and stars rocker and veteran swinger Phil Varone. The former Saigon Kick/Skid Row drummer takes viewers to a city that truly never sleeps. This 24-hour swinger haven is the set for an unbelievable night of debauchery that will reach new heights of eroticism.
Phil's cast of real swingers includes couples, single women and single men who have come to Vegas for one reason and one reason only; SWINGING. With clubs, weekly events and penthouse parties the swinging lifestyle is more prevalent then ever, making Las Vegas the host of "lifestyle" conventions that are attended by thousands of swingers from all over the world.
Phil's swinger friends are always up-for-anything and with cameras rolling, Phil has the footage to prove it. Watch as they rummage through Las Vegas having fun wherever they can, which includes parties, a party bus, threesomes, foursomes and all-somes!
"It's always a pleasure going to a new city and meeting fun, outgoing swingers and Las Vegas is no different. Another amazing city with amazing swingers having fun," says Phil.