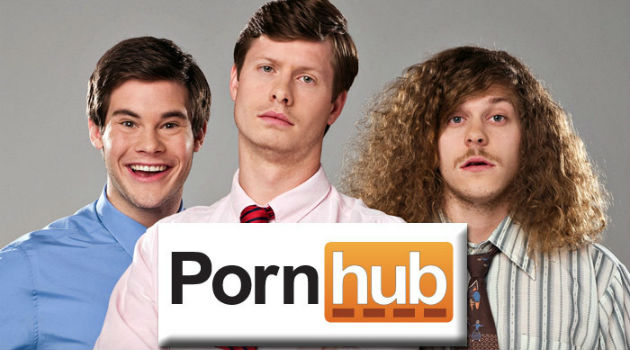 The guys from Workaholics have been invited to watch a porn shoot IN PERSON from PornHub's VP of Marketing. How did this come to be? It's because Adam DeVine confessed during a recent Rolling Stone interview that it's hard for him to write at home because there are too many distractions.. You know, like watching porno videos at PornHub.
Here's the official offer letter sent to DeVine:
Dear Mr. DeVine,

My name is Corey Price and I am the VP of Marketing for pornhub.com, the largest adult site in the world. We recently read your Rolling Stone article where you were talking about writing sessions at your manager's house being a lot better due to the fact that there are too many distractions in your house. The biggest distraction being that your internet is not blocked and you have the ability of seeing our site and watching porno because " we know what guys like".

We applaud the fact that you love our site, and find us to be a great distraction for your writing of your awesome tv show, "Workaholics". We are even bigger fans of yours! We love your character, Adam DeMamp and would love to see your character become a more frequent surfer to our site on the show! Perhaps we can arrange for Adam to become a regular contributor to our blog over at pornhub.com?

Either way, we wanted to reach out to you and let you know just how much we appreciate the publicity and your work. We are sincerely interested in getting you, or your character on board with us. We know that telemarketing can be a real drag, and believe that the characters on the show would enjoy their jobs, and lives much better working with an adult tube site that regularly gets over 35 million visitors a day! Also seeing that your production office for "Workaholics" is in

Van Nuys, you are just around the corner from Chatsworth where we regularly have some of our website's partners shooting regularly. Perhaps we can arrange a visit to a porn set for Adam, Anders, and Blake?

Please feel free to have your representative or yourself hit me up anytime. Also send along an address so we may be able to send you some great pornhub.com schwag your way. We'd love to see Adam rocking one of our new Pornhub T-Shirts on the show and also talk more about what it would take to get you blogging for us!

Best Regards,

Corey Price

VP Marketing

Pornhub.com
DUDE, that's SO tight butthole!