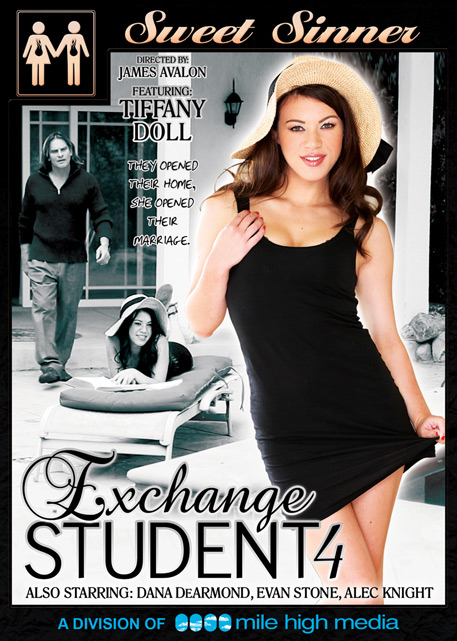 Blonde lovers were tickled pink with our review of Pretty Panties, but we thought it was only fair to give our brunette lovers something to get excited about.
Exchange Student 4 stars Tiffany Doll and Dana Dearmond, two stunning brunettes who have fun swapping partners in this sexy feature from James Avalon and Sweet Sinner.
Ben's (Evan Stone) been kicked out of his house because of his affair with an exchange student, so imagine his surprise when his buddy Alex (Alec Knight) and his wife Dana (Dana DeArmond) are taking in an exchange student of their own. Old habits die hard as new passions are born, swirling around the sumptuous French student, Tiffany (Tiffany Doll). Sweet Sinner invites you into the home of struggling marriages and devious infidelity.
Check out the work-safe trailer for Exchange Student 4 below:

Tiffany Doll plays a horny French exchange student who's hungry for some cock, and she nails the role completely. While the story has some massive plot holes, no one who's watching will much care. All they're tuning in for is some hot sex, and Exchange Student 4 delivers with four sexy scenes that are sure to please the most discerning of critics.
Sweet Sinner caters to couples, so while the sex is hot (especially that first scene with Dana Dearmond and Alec Knight), it's pretty standard fare. That's too bad, because after everyone swapped partners, I half expected to see a huge orgy take place, or at the very least a fiesty FFM scene.
Nonetheless, the action was intense. So much so that I've replayed the movie a couple of times.. That's saying something right there!
>> Purchase Exchange Student 4 from adultdvdempire.com.