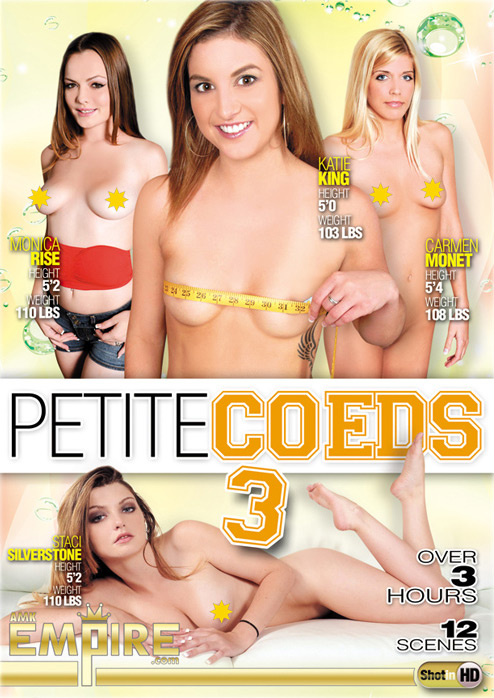 Even though I'm a pretty tall guy, there's just something about petite girls that gets me excited. In fact, nearly every girl I've hooked up with has been 5'2″ or shorter.. Love me some spinners!
AMK Empire, the folks that brought us the 2012 Best Feature Film Revenge of the Petites, are back with another title for fans of the petite, Petite Coeds 3!
The tiny ladies of Petite Coeds 3 include Katie King (5'0", 103 lbs), Monica Rise (5'2", 110 lbs), Carmen Monet (5'4", 108 lbs), and Staci Silverstone (5'2", 110 lbs). Though they might be vertically challenged, each girl has a massive appetite for sex, whether by self-pleasuring or prowling for frat guys and science nerds to spread their legs.
Petite Coeds 3 brings you over 3 hours of hot action with a total of 12 scenes. Each girl stars in 3 scenes – A measurements scene, a solo scene (with fingering or toy play), and a sex scene. While the measurement scenes are unique and prove that the girls are true petites, they didn't do much for me and I quickly fast-forwarded past them.
I thought the solo scenes were a great addition to the disc, and watching Staci Silverstone fuck herself with a variety of dildos and vibrators was insanely hot! Her sex scene was exceptional as well, but then again I don't think she could turn out a bad scene if she tried..
Overall, I really enjoyed Petite Coeds 3, and it's a must-have for any teenie/petite lovers out there. AMK Empire really owns this niche, and I can't wait to see what they've got in store for us next!
>> Purchase Petite Coeds 3 from adultdvdempire.com.