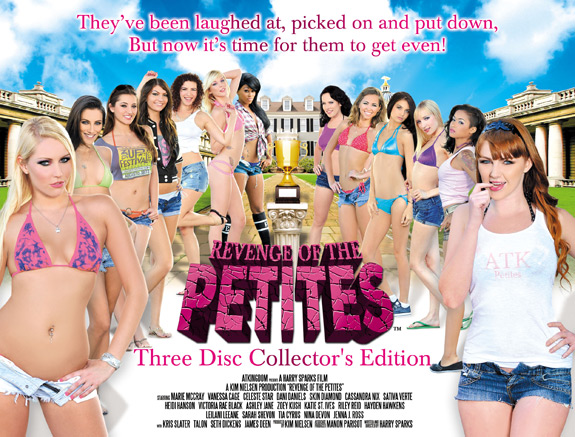 When I heard that AMKingdom, a brand that's been associated with some of the best amateur and niche content on the web, was releasing a full-length feature film, it immediately caught my attention. I've always been a fan of their stuff, and I couldn't wait to check out their new movie!
Revenge of the Petites is an original feature capturing the essence of the 80's hysterical coming-of-age comedies. The movie notably redefines adult entertainment as the first feature to successfully merge niche markets like petites, hairy, and exotic with traditional adult elements. Tying all the niches together is an original, feel-good story with heart, as well a huge budget, 23 adult stars, 30 extras, and original music.
Let's face it, most adult parodies don't try very hard. They just take your typical porn scene, incorporate some outfits reminiscent of the original movie, and call it a day. But Revenge of the Petites is a legitimate movie, albeit one with a number of sex scenes. Back in the 80's, pornos put some effort into their storylines. But eventually that gave way to what we have today. And while there's nothing wrong with today's movies, it's refreshing to see a movie that harkens back to those golden days of porn.
Industry critics have nothing but good things to say about the movie:
"Likely to pull in many a customer. A lot of infectious fun…One of the absolute must-see adult motion pictures of 2012.." – AVN's Peter Warren
"A charming, light-hearted feature with impressive production values, an original story, and a likeable cast that delivers a credible acting performance. We look forward to more features from AMKingdom." – XBIZ Managing Editor Dan Miller
"Director Harry Sparks pushes the envelope by incorporating narrative techniques that the adult industry hasn't experimented with in decades, if at all.. Sparks is a legitimately strong director who isn't trying to make a mainstream film that happens to have sex with it, or an 'adult' film that happens to have a narrative. He incorporates both mindsets, thought by some to be inherently conflicting, in fairly equal measure and crafts in the process a genuine motion picture experience that's both pleasurable and arousing. We have a long way to go before the worlds of conventional filmmaking and pornographic content are intertwined, but 'Revenge of the Petites' is at the very least a step in the right direction…" – CraveOnline.com Film Editor William Bibbiani
Our sentiments exactly! With a great storyline, an amazing cast (Marie McCray, Vanessa Cage, and Skin Diamond are fantastic), and almost 8 hours of content spread across 3 DVDs, it's definitely one movie you must check out!
>> Purchase Revenge Of The Petites from adultdvdempire.com.