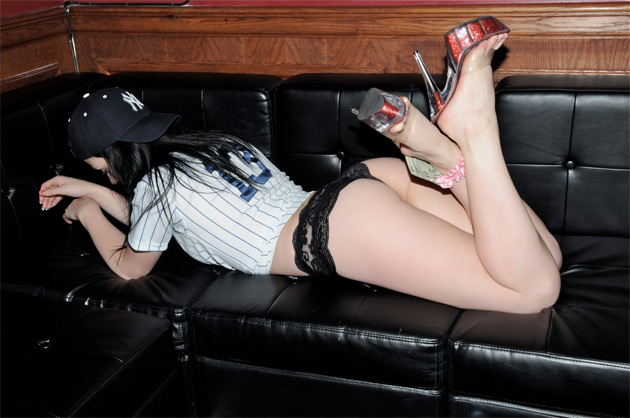 Rick's Cabaret NYC is hosting a three-day "Unofficial Before and After Party" to celebrate the Major League Baseball All-Star Game being played Tuesday, July 16th at Citi Field, the home of the New York Mets. The club is located at 50 West 33rd Street just off Broadway.
Rick's Cabaret NYC, which features three floors of topless entertainment plus a roof-top smoking deck, will offer complimentary admission on July 14, 15 and 16 for anybody wearing All-Star Game or other official MLB gear. Rick's Cabaret bartenders have also designed a "1st Base" cocktail that will be served during the party as well as a "2nd Base" version that will be served with meals on the second floor Rick's Cabaret Steakhouse.
"Baseball players love us," purred Rick's Cabaret Girl Monica. "There's always a baseball star or two sitting in either the Champagne Room or the VIP Sky Box. But I can't tell you any names, because we respect everyone's privacy here at Rick's Cabaret. And that's one of the reasons the athletes and celebrities love us," she explained.
The Rick's Cabaret NYC Girls always support the home teams, so they are divided about the All-Star Game. Rick's Cabaret Girl Kendra cooed, "I root for the Yankee's Robinson Cano because he's cute, and also because he's a great player!" Rick's Cabaret Girl Gabriella said, "David Wright of the Mets is my favorite player. I voted for him 1,000 times. Haha! I hope he hits a home run."
"Playboy" calls Rick's Cabaret NYC the "#1 strip club in New York City" and "Guy's Gab After Dark" recently wrote that "Rick's Cabaret is well known for its beautiful exotic dancers, luxurious setting, gourmet restaurant and warm hospitality."
Rick's Cabaret/New York City is located across from the Empire State Building and one block from Madison Square Garden. Popular with business professionals and an upscale clientele, it has also become a tourist destination because of its beautiful entertainers, relaxing ambiance and warm hospitality.