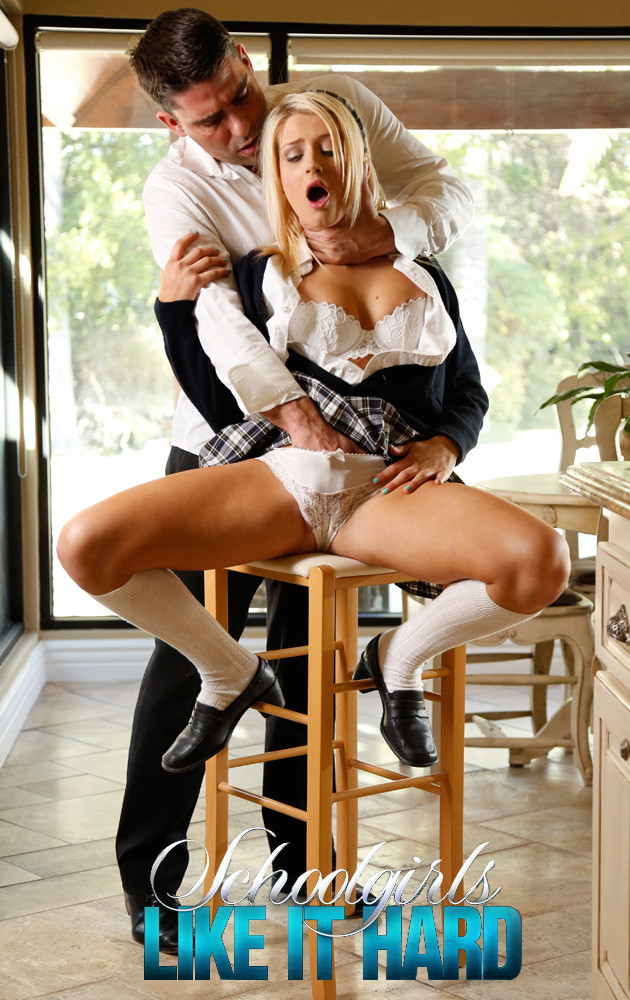 New Sensations has just released Schoolgirls Like It Hard, the first volume in a new series mixing rough sex with schoolgirl fantasy. The four scene vignette is directed by Paul Woodcrest and stars young, upcoming sensations Aubrey Gold, Adria Rae, Joseline Kelly, and Kimmy Granger.
For these horny schoolgirls, The only one thing that can relieve those mid-term stresses is a hard pounding cock! Watch as Aubrey Gold, Joseline Kelly, Kimmy Granger and Adria Rae suck and fuck their way to the head of the class. After all, these schoolgirls like it hard!
Aubrey Gold negotiates a deal with her Spanish teacher to improve her no-muy-bueno grades in exchange for rough sex.
Adria Rae ditches class multiple times a week to hook up with her boyfriend, a stern father-figure who has no choice but to dole out the discipline to teach her school is important.
Joseline Kelly breaks up with an older, dominant lover when her boyfriend threatens to tell her dad, but let's him hit it one more time… hard, really hard.
Kimmy Granger gets all choked up when she's made to understand the importance of waiting for your lover on date night.
"One of my most favorite fantasies growing up, especially in high school, was to seduce a teacher so acting it out seemed like the real deal," Aubrey Gold said. "The whole experience was really fun and I feel I did a great performance because it was a fantasy of mine. I love being man-handled as well! Something about a man grabbing my neck or the back of my head while having sex with me is such a turn on! I love rough sex. I even squirted in this scene. That's how much I love rough sex!"
"I had a blast as always with New Sensations," Kimmy Granger said. "I'm more on the submissive side and love rough, passionate sex so working with Ramon [Nomar] was very fulfilling and great for me."
Paul Woodcrest said, "Everyone loves schoolgirls and this particular student body looks amazing in the outfits and, more impressively, really pushed itself physically to give the kind of performances you want to see in this kind of movie. I'm thrilled to have had such a committed cast. A+ for everyone!"
This is another winning series from the folks at New Sensations, bringing together two of my favorite genres in one explosive setting. Check it out for yourself, I promise you won't be disappointed!
>> Order your copy of Schoolgirls Like It Hard today!