Axel Braun has been directing adult movies for 26 years, and his specialty is porn parodies. He's parodied everything from Batman to Peter Pan, from Elvis to Spider-Man. You name it, he's spoofed it.
In 2011, he produced and directed Star Wars XXX with the biggest budget ever for a porn parody, $500,000. The movie won a slew of awards all over the world, and quickly became the highest selling pornographic film in history. With the recent global success of The Force Awakens, demand for SWXXX has increased 500%, and requests for a sequel have been filling his mailbox daily.
Here's where you come in. Braun took to Indiegogo.com, the largest global crowdfunding site, to finance The Empire Strikes Back XXX: An Axel Braun Parody. And if the crowdfunding campaign is successful, this will become the first adult film released completely free of charge!
"I want to make the most amazing porn parody ever, completely funded by fans and sponsors, and then I'm going to give it away for free. There will be no DVDs; it will only be available online, and it will be free for everyone. Forever. No hidden gimmicks; no need to give out your email address; no membership; absolutely nothing but click and watch. Full HD, and fully legal. It's my way to fight Internet piracy while giving back to the fans, and it's a bit of a social experiment," Braun said.
Braun specifically set the campaign as Fixed Funding, which means Indiegogo will hold all funds raised, and if the goal is not met by the campaign deadline, all contributions will be automatically refunded.
The crowdfunding campaign on Indiegogo intends to raise $500,000 by April 22. The funding goal is equal to the budget of the movie's predecessor, Star Wars XXX. The money raised for the new movie would cover the cost of production, marketing, Indiegogo fees, and crowdfunding perks, which include premiere party tickets, signed scripts, costumes and props from the movie, visits to the set, and much more.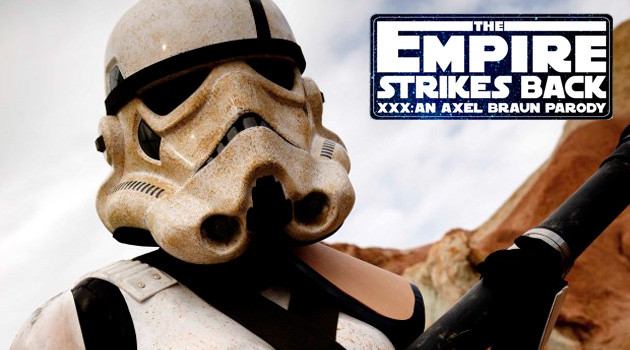 The Empire Strikes Back XXX will star returning cast members Allie Haze (Princess Leia), Lexington Steele (Darth Vader), Seth Gamble (Luke Skywalker), and new additions to the cast include superstars Riley Steele, Carter Cruise, Aiden Ashley, Casey Calvert, and Asa Akira, on special loan from Wicked Pictures. Other cast members will be added as the fundraising campaign progresses.
Along with most of the crew from Star Wars XXX, Braun's longtime collaborator, award-winning director Eli Cross, will be returning as a producer and director of photography.
Pre-production and set construction for the movie is set to begin on April 26. Filming will start on June 1st and continue for 28 days in California, Nevada, and Alaska. Assuming they reach their funding goals, The Empire Strikes Back XXX: An Axel Braun Parody will be released worldwide for free on September 30, 2016.
There are some pretty sweet perks being offered (a visit to the set, a walk-on role, a date with Allie Haze), so here's your chance to do something good for the world of porn while getting a really memorable experience in return. Visit Indiegogo.com to pledge your support!