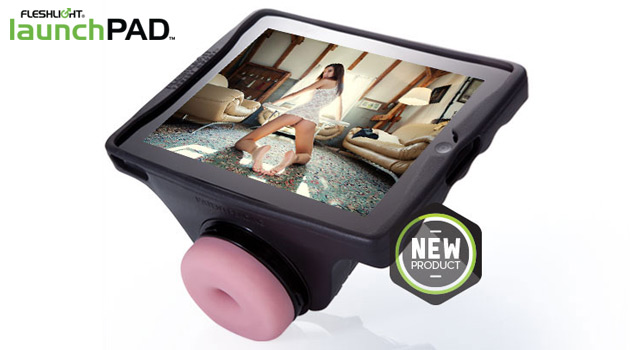 Years ago, we reviewed the Fleshlight, the lifelike pussy that looks like an innocent flashlight. We thought it was pretty awesome, and apparently we weren't the only ones, as today the Fleshlight is the world's leading male sex toy! Now, the folks at Fleshlight have introduced a new accessory that is sure to take the Fleshlight to a whole other level, the Fleshlight Launchpad.
The Fleshlight LaunchPAD securely holds the popular Apple iPad as well as a Fleshlight product, enabling the user to enjoy the full Fleshlight experience while enjoying content or communicating live with a friend via applications like Facetime or Skype. The unique placement of the Fleshlight product in relationship to the iPad allows the user to fully immerse himself in POV (Point of View) pornographic content.
While the video below tries to promote the launchPAD as a tool for "couples play", in reality 99.9% of people using it will likely be stroking off to some POV porn or cam models. And there's nothing wrong with that, just own it already..
If you're still not convinced, look at this epic testimonial from CAPTAINBEEFSTIK: "I love warming up my Fleshlight, finding some awesome porn, and going to town with the Launchpad."
Hey, you can't argue with someone named CAPTAINBEEFSTIK, he clearly knows what he's talking about!
If you're convinced that the launchPAD is right for you, you can pick one up today for the introductory price of $24.95. If you purchase it, be sure to come back here after using it and let us know what you think of it!