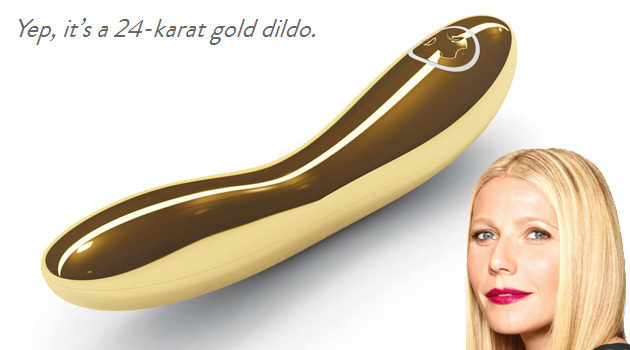 Last week, Gwyneth Paltrow featured a $15K, 24-karat gold vibrator on her lifestyle website, Goop.com, with the tagline, "For those who understand you can't put a price on pleasure." Is this pretentious bitch completely out of touch with reality or what?!
Adult e-tailer GameLink.com has responded by offering 6 high quality vibrators at a price of $30 or less.
"GameLink.com has long adopted the idea of pleasure for everyone," said Jeff Dillon, vice president of business development for eLine management company, whose clients include GameLink.com. "Gwyneth Paltrow is known for promoting an elitist lifestyle, which now extends to the sex industry. In light of this, we'd like to offer real women the option of six vibrators under $30, as we want all our customers to know we value providing quality products, which provide maximum pleasure at a great price."
For those of you who missed the article on Goop, Paltrow recommended a 24-karat gold vibrator from Lelo called the Inez, which clocks in at a whopping $15,000. According to Lelo's website, the Inez is for "women who demand the ultimate in luxurious indulgence." And for those of you peasants who can't afford such luxury, there's also a stainless steel version for just $7,900.
"Lelo is a fantastic brand," stated Dillon. "We offer many of its award-winning products on our website, from $40 Lelo Luna Beads to the $185 Lelo Mona 2 vibrator. They are high-quality products that will last, but we felt it necessary to highlight even more affordable options after Gwyneth Paltrow's list."
Here are the six vibrators they suggested:
The BGood Vibrator is a classic take on the vibrator with an upgrade of velvety texture and eloquent design. A gentle twist of the dial base offers multiple speeds to suit desires.
The Mood – Sultry vibrator is perfect for those women aiming for the G-spot, and will get users in the mood with its curvaceous design. Mood – Sultry embraces the G-spot with 10 ultra-powerful functions by the simple push of the LED button at the base.
The Ono Vibe tickles and delights erogenous zones, and it is made from silky smooth medical grade silicone. The powerful motor boasts 6 vibration modes.
The Crush Cupcake is another silicone vibrator that delivers incredibly pleasurable stimulation by combining ultra-intense vibrations with arousing petal-like textures.
The Ovo T2 Lay on Waterproof Massager is a German designed massager, which is rounded for comfortable use and features a soft, feminine shape designed to match a woman's curves.
The Bettie Page Buzzin Bullet and Orgasm Balm Set causes users to quiver with pleasure from head to toe, thanks to this sensual duo. The minty orgasm balm heightens sensitivity to the clitoris, working in conjunction with the ultra-strong and stimulating bullet vibe to create mind-blowing orgasms.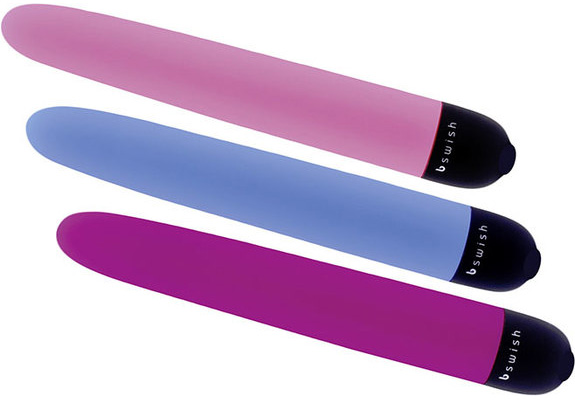 All six of GameLink's featured vibrators come highly recommended by consumers of the e-tail site. There are over 380 vibrators on GameLink.com, many within a $30 price range.