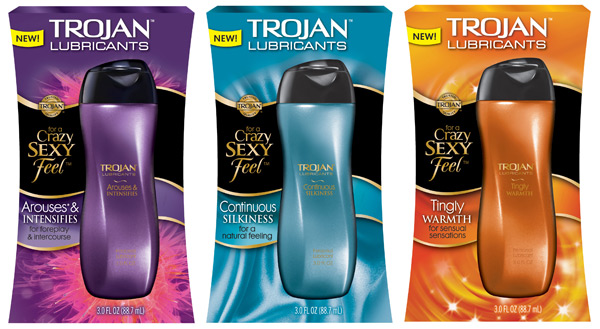 Trojan has nearly 100 years of experience in bringing to market high-quality products that you can trust. While best known for their condoms, they recently entered the pleasure space with a line of vibrating rings and massagers.
And now they're bringing their innovation expertise to a new category with Trojan Lubricants!
Now many people think that lube's only for women who suffer from dryness, have had a baby, or are menopausal. But guess what? That's just not true!
In reality, lubricants are just another tool to raise the pleasure index in the bedroom. In fact, research found that women who used lube during sex reported significantly higher levels of satisfaction and pleasure. And if she's happier in the bedroom, you will be too!
Trojan offers three lubricant varieties:
Trojan Continuous Silkiness Lubricant uses a water-silicone hybrid formula to provide a unique satin-like feel.
Trojan Arouses & Intensifies Lubricant is specially formulated for foreplay and clitoral massage, or for intensified sensations during intercourse.
Trojan Tingly Warmth Lubricant provides a pleasing warming and tingling, which is neither too hot nor too extreme.
All of their lubricants are clear, unscented, long-lasting, non-messy formulas that have the perfect feel in your hands and on your body, with pleasurable sensations that are just right.
My girlfriend and I tried all three varieties, and they're all great. In addition, the introduction of lube into our sex lives has definitely heated things up!
And in the name of science, I tried the Trojan lube on a few solo missions, which was pretty enjoyable as well. So no need for a partner to enjoy this.. 🙂
Trojan Lubricant sells for $19.99, and is currently available for purchase at select retails, and online at www.trojanlubricants.com.