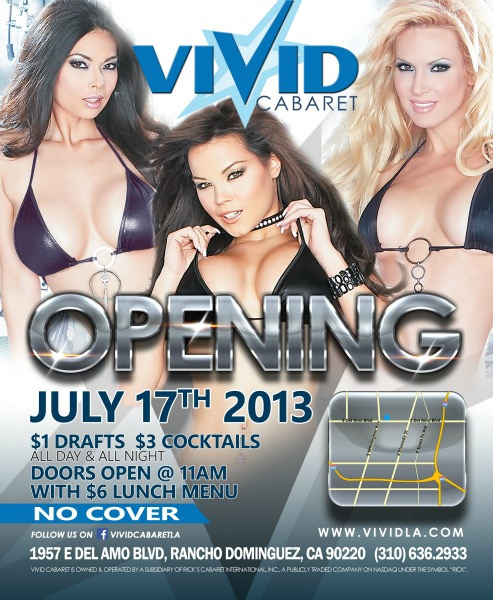 The newest Los Angeles County gentlemen's club, Vivid Cabaret/LA will open with a "soft launch" on July 17th. The new club will open its doors at 11 a.m. and will feature $1 draft beers, $3 cocktails, a $6 lunch special, and no cover charge.
The newly built 12,000 square foot club is using the Vivid name under a licensing agreement from leading adult movie studio Vivid Entertainment by a subsidiary of Rick's Cabaret International, Inc., the publicly traded company with nearly 40 gentlemen's clubs nationwide. Vivid and Rick's Cabaret are planning a gala grand opening party soon.
"Vivid Cabaret promises to be one of the most exciting clubs in California," said Eric Langan, President and CEO of Rick's Cabaret International. "We'll have the most beautiful dancers and frequent visits by the amazing Vivid performers, Vivid movie premieres and other special events."
Vivid Cabaret/Los Angeles is the first of two Rick's Cabaret clubs that will bear the Vivid Cabaret name. The company will open Vivid Cabaret/New York City in the fall on 37th Street in the Fashion District near Bryant Park, Fifth Avenue shopping, numerous leading hotels and Times Square.
Vivid co-founder and CEO Steven Hirsch invited Vivid fans to attend the soft launch on July 17th. "You'll see that the club has the Vivid look and feel. You'll get to meet Vivid performers as they make special appearances, and in the weeks ahead we'll have previews of their new movies, auditions and much more. We're also looking forward to getting to know many of our fans in person when they visit our clubs."
Vivid Cabaret/Los Angeles is located at 1957 East Del Amo Blvd, Rancho Dominguez, CA, just north of Long Beach and convenient to the 405, 110, Gardena and Long Beach freeways.
If you're in the Los Angeles area, be sure to stop by tomorrow and let us know what you think!