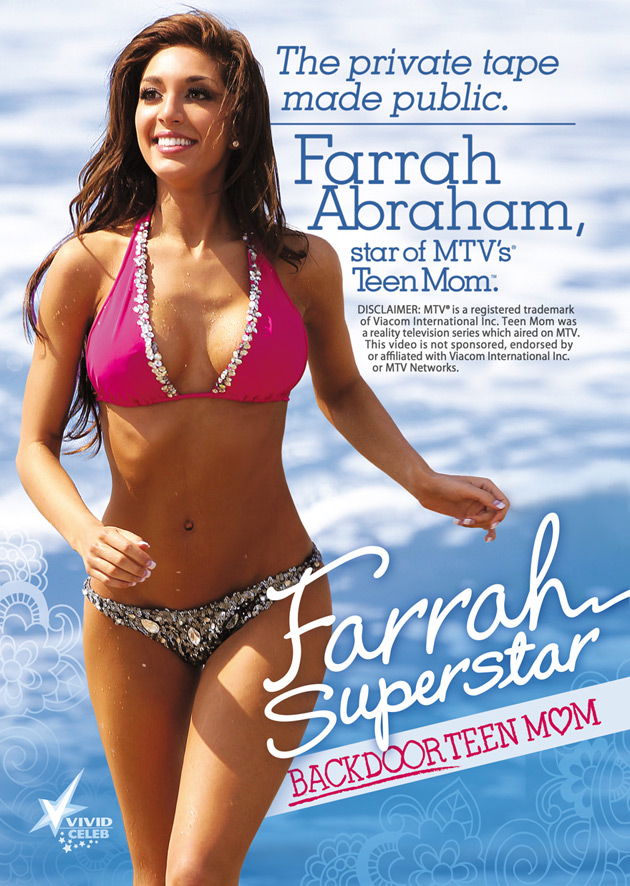 Vivid Entertainment has finally acquired all rights to a sexually charged movie starring 21-year-old Farrah Abraham. The adult film studio will release Farrah Superstar: Backdoor Teen Mom online at vivid.com on May 6th, and it will go on sale in stores nationwide on May 14th.
The movie was made privately by the former cheerleader from Council Bluffs, Iowa who became the star of the hit MTV series Teen Mom. She decided to celebrate the end of her 21st year by making a personal tape that would forever capture her beauty and sensuality at this time in her life. The existence of the footage that she originally wanted to keep confidential became known earlier this month, and it has been the subject of intense media scrutiny since then.
"Since word of this tape got out, we've been overwhelmed with inquiries about whether or not we had acquired it," said Steven Hirsch, founder/co-chairman of Vivid. "I'm happy to confirm that we have purchased it. We went after this movie as vigorously as any sex tape we've ever pursued. We felt it was definitely worth it, not only because of Farrah's popularity, but because the footage itself is amazing. I think many fans will be shocked at how truly explicit it is, including stunning backdoor scenes. Farrah's looks remind me of a young Kim Kardashian and we all know how her story turned out."
"In Farrah Superstar: Backdoor Teen Mom we have over 70 minutes of non-stop erotic action," Mr. Hirsch said. "Farrah is gorgeous, sexy and absolutely uninhibited. She has the kind of independence that our fans find appealing."
Word of the tape's existence was widely covered by the media and, having lost the ability to keep it a secret, Farrah decided to sell the tape to Vivid after reviewing several offers.
I want to take a moment and personally thank Steven Hirsch for making this deal, as I can't wait to watch James Deen take Farrah to pound town!
May 14th can't get here soon enough!