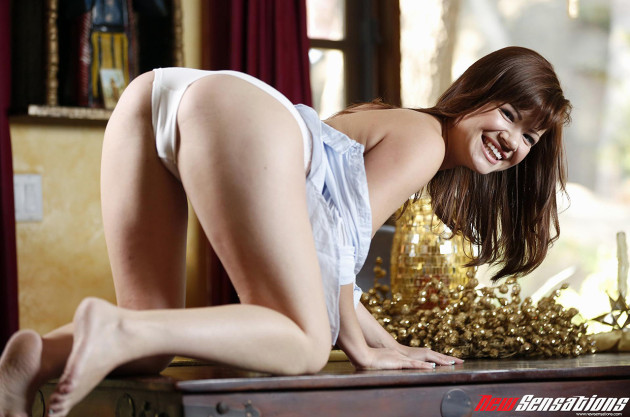 Porn star Alison Rey is a relative newcomer to the adult industry, but based on what I've seen so far, I think she's going to go really far in this business. If you need proof, just go watch her incredible blowjob scene for TheDickSuckers.com, which left me aching for more.
Clearly I wasn't the only one blown away by her sex appeal, as noted director Jacky St. James tapped her for a role in New Sensations' Seduction Of A Young Girl. In the movie, a forbidden attraction between Alec and his son's babysitter, Alison, reaches a breaking point when he confides in her about his impending divorce.
The experience really gave Alison the chance to show off her acting chops. In usual Jacky St. James fashion, Alison's scene lent itself to displaying her acting skills in a much broader light. This is something fans will not want to miss.
Alison commented "Working with Jacky was an absolute dream. She is one of the sweetest people I have ever met and she is an amazing writer and director. Ever since the first time I heard her name, I had wanted to work with her, and I am so grateful she gave me the opportunity to do so in Seduction of a Young Girl. I was ecstatic that she asked me to read for her based on the fans' input that she should shoot me. It was an unexpected invitation, but I was as happy as can be. The feature was a blast to film and I'm really excited to see the final product. It was definitely one of my favorite scenes to date, and I hope I will have the opportunity to work with Jacky again in the future."
"When your editor sends you a text that says, 'Wow, Alison Rey is a great actor' that speaks volumes. In a business where editors are leaned on to "save" performances, no work was needed to make Alison's more believable. She knocked it out of the park in the first scene I worked with her on and look forward to our next venture!" said Jacky St. James.
This movie sounds like a real trifecta, with Jacky St. James, New Sensations, and Alison Rey teaming up for what's sure to be an explosive movie, and I can't wait to check it out!
>> Order your copy of Seduction of a Young Girl today!